Contributor post by Megha of byTheArtBug
Here are some lovely Gift options from CIJ Team Members, all Under $50!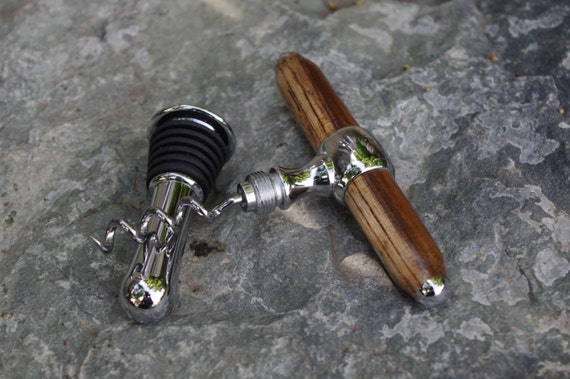 Don Bauman from DJwoodcrafts says ,"This item makes a great gift because it is two items in one. The types of wood all are very unique and no two pieces are alike. As it is hand turned on a lathe it takes shape and the colors of the wood start to emerge. The T-Handle shape makes a sturdy corkscrew. The corkscrew unsrews from the stopper and is stored in the stopper. The stopper is perfect for keeping that unfinished bottle fresh. It has graduated rubber rings makes a good seal. This is truly a work of craftsmanship."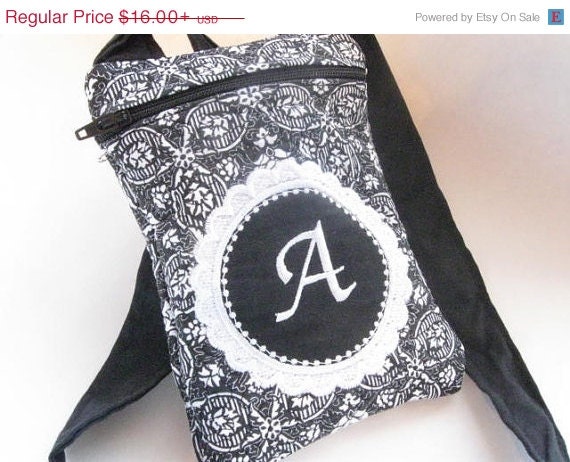 Amy Spock from BeadsandThreadsbyAmy says ,"My favorite gift to receive is a personalized one…something that someone took some time and thought to give. Even something very small. I love to travel, and I love small bags for my passport, wallet, and camera. This bag is the perfect size for that, and it is customizable. I can even create it in different color palettes. These make great gifts-for makeup bags, travel bags, or small purses. I am a teacher, and made one of these for each of my teacher's aides with an Amazon gift card in them. They were a big hit. I made one for my niece, and put non-toxic fingernail polish, lip gloss, and hair ties in it. She loved it!"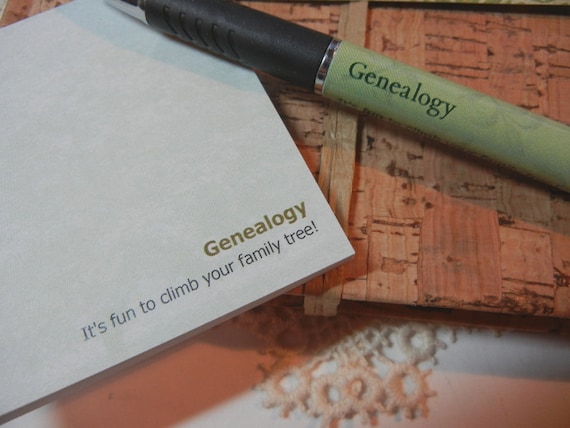 Jeanne from TheSandlapperShop says, "One of my favorite hobbies is genealogy which is researching family history. It's interesting and educational. I put this gift set together for someone who also has that interest or perhaps to get a person started on a new hobby. The pen and notepad have fun quotes on them and the acid-free notebook is useful to store information or photos. I hope this listing gets someone interested in a new hobby!"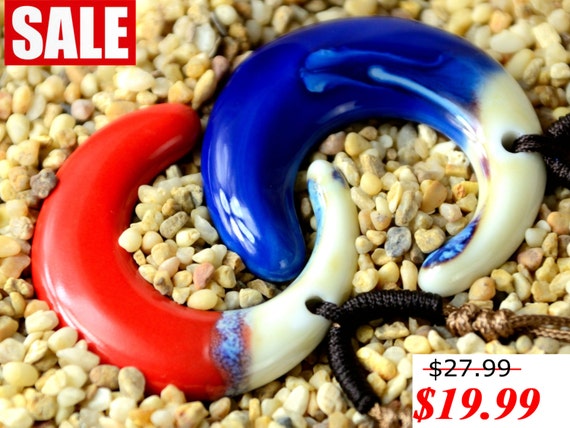 Der Musensohn from dermusensohn2000 says, "In China, the moon is regarded as a symbol of love and reunion, and it is supposed to deliver all our longings to those we're thinking of, family members, lovers, friends….We made this necklace and hope that by sharing these necklaces with someone you love, and your minds will always be connected!"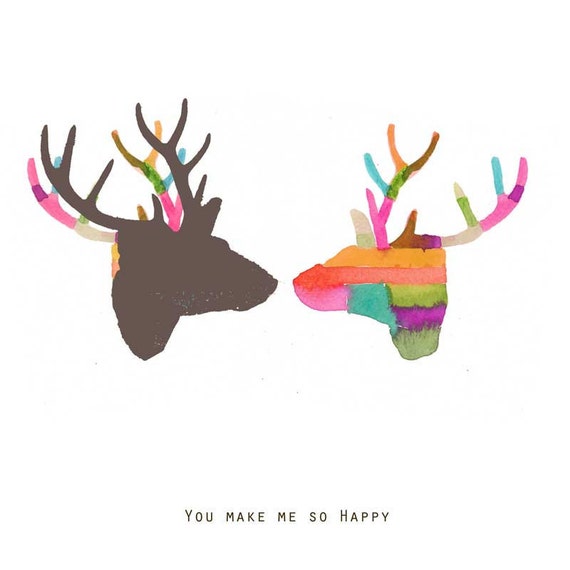 Louise van Terheijden from LouiseArtStudio says, "I've made this little painting of two deer telling each other they are happy. It is a nice gift for a dear friend, lover or husband. It is an open edition fine art print on a beautiful archival paper."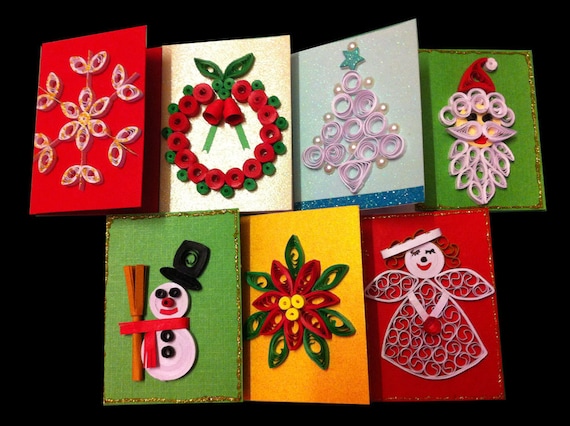 Monisha Jain from DreamsByTheRiver says, "I made these as gifts for my entire extended family for Christmas 2013. I'd made 50 of them (one for each family member), and I'd made them with a lot of love. They all liked it so much that they grilled me as to why I wasn't selling these and all my other cards. Their wonderful comments encouraged me to set up my first Etsy store less than 2 months later. It was also part of the first order I received on my Etsy store. Thus, this set is one of my favorite items on Etsy."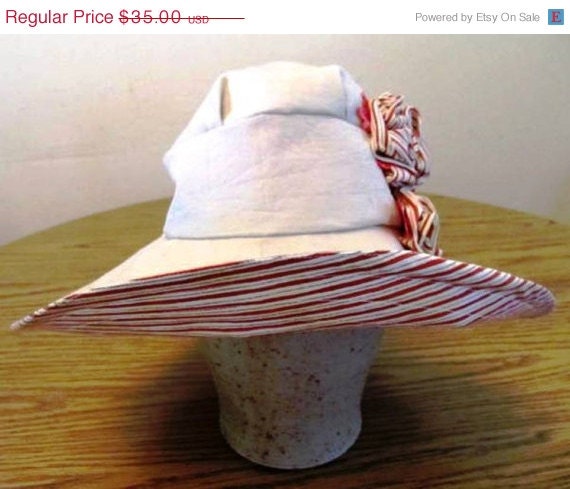 Susan from SSFDesigns says, "I first designed this hat for a co workers wife who had cancer and was upset about losing her hair. I made it for her so she could look and feel pretty when she went out."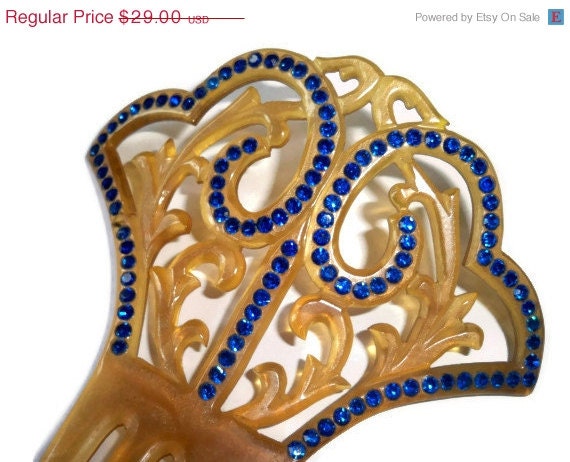 Amanda Sagarin from eclecticnesting says, "I found this hair comb in a box with many other Art Deco treasures at a living Estate Sale. The owner is an artist and was picking up her life and moving from the east coast to New Mexico – she had the most interesting life. I felt a real connection to her and I adored her stuff – both to find a new home and to keep for myself. "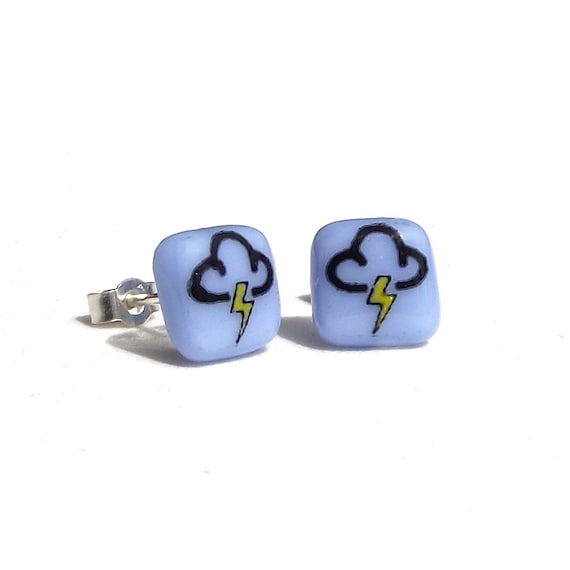 Rachel Elliott from flyingcheesetoastie says, "I love making quirky little stud earrings and this latest collection was inspired by retro weather symbols from the forecast on TV. It's just a shame that most of the symbols are for bad weather!"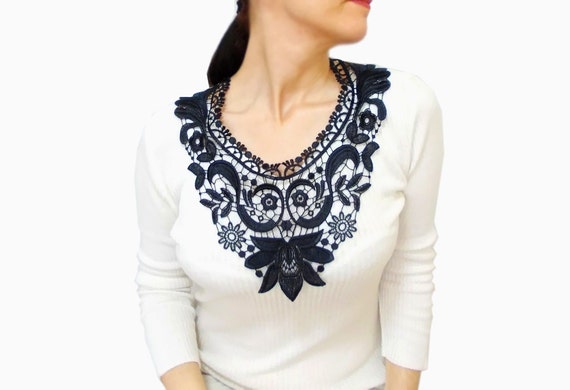 Ebru HAREM from HAREMDESIGN says, "Do you have a love for both feminine and edgy fashion trends.? If you do then this embellished flower collar/necklace is just for you. The lace necklace features a gorgeous floral design in black. Each piece is personally designed to create a one of a kind, unique gift for yourself or someone special..! It's like receiving a little piece of wearable art. Look at the details of this gorgeous piece of black crocheted bib lace…Silver color clasp and chain. This stunning work of Art is the only accessory needed to add an intense eye catching for an unforgettable outfit."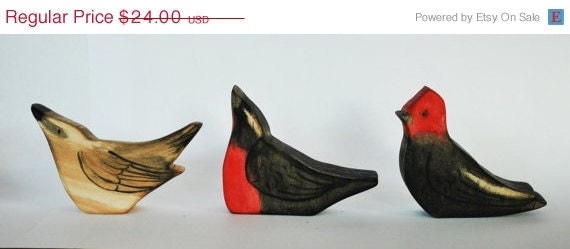 Valentina Cáceres from JuguetesEloisa says, "I just love this collection of three chilean birds. I thought it will be nice to do some animals that were representative from where I come and that may refer to specific ones, not only as a "bird" but as a particular one. I think is important to teach children to value their surroundings, so which better way than by playing?"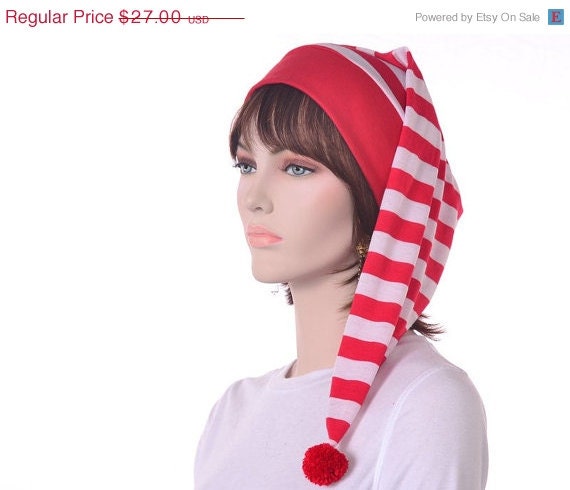 Suzanne Love from MountainGoth says, "This hat is very popular as a photo prop for Christmas photos. It's being used in a commercial for one of the top video game systems. More importantly, it looks like a candy cane."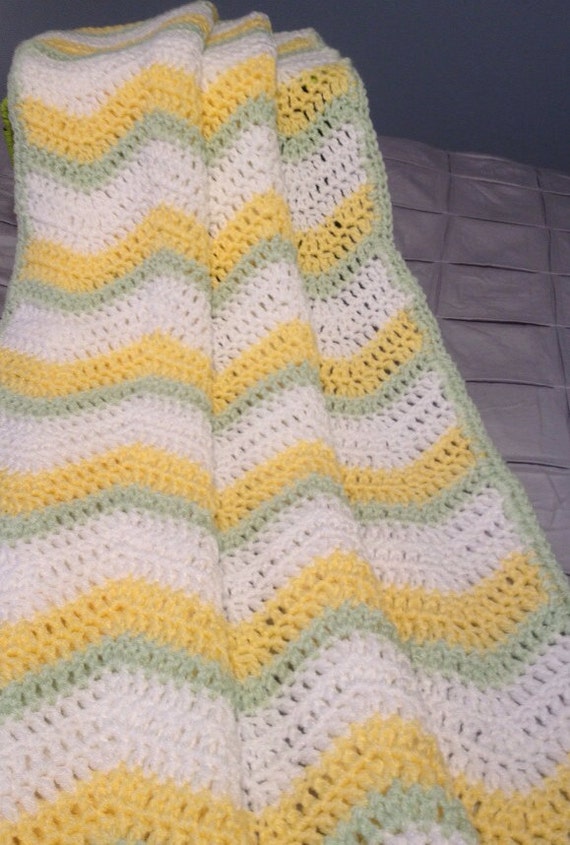 Faith McCathern from QuinnsBin says, "This is one of my favorite blankets! it was very challenging at first as this is my first chevron blanket. I chose the colors so that it would work for a boy or girl."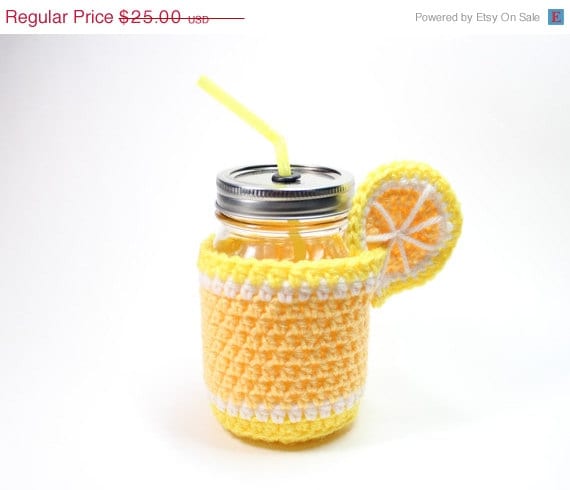 Amanda Jayne from MsAmandaJayne says, "For me, I started making these mason jars after having one at a friends baby shower. But there was no cozy on it so they made a big old mess because of the condensation. So I got to think of what would be a good way to make a cute cup cozy and cup… thus this was born."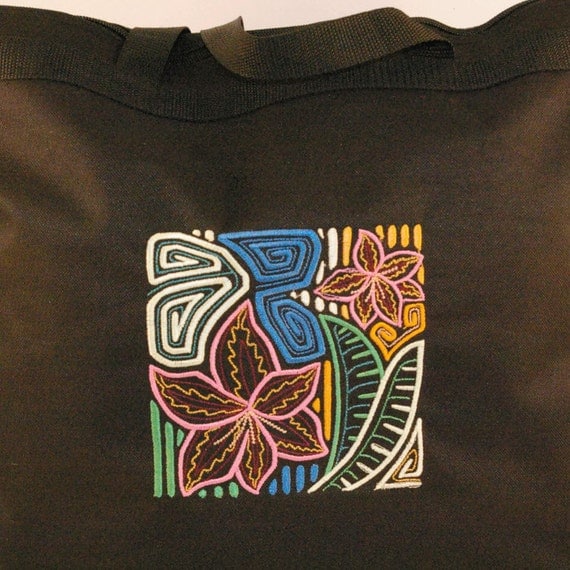 Alanna Whitestar from StarLadyEmbroidery says, "I love browsing the Internet for designs to embroider onto tote bags. My favorite designs come from various world cultures. There are Suzani designs from Uzbekistan; Wycinanki from Poland; and Mola designs from Panama, an example of which is below, of an Amaryllis flower. Mola means shirt or blouse, and are usually made by the women of the Kuna (sometimes spelt Guna) indians of Panama. The designs are usually very colorful. I chose to embroider this design on a black tote because the colors really go zing! against the dark material."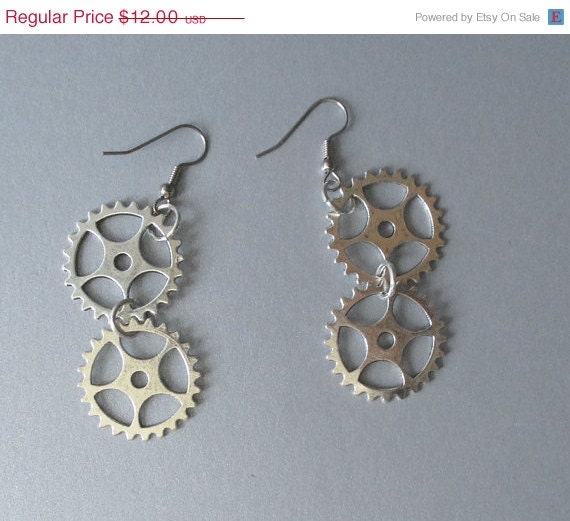 Jennifer Mccarthy from artsix says, "I love to mix new and vintage things. I had all these charms laying around and decided to incorporate some subway tokens as well. I started doing some steampunk/industrial pieces for an upcoming show and have listed a few on etsy."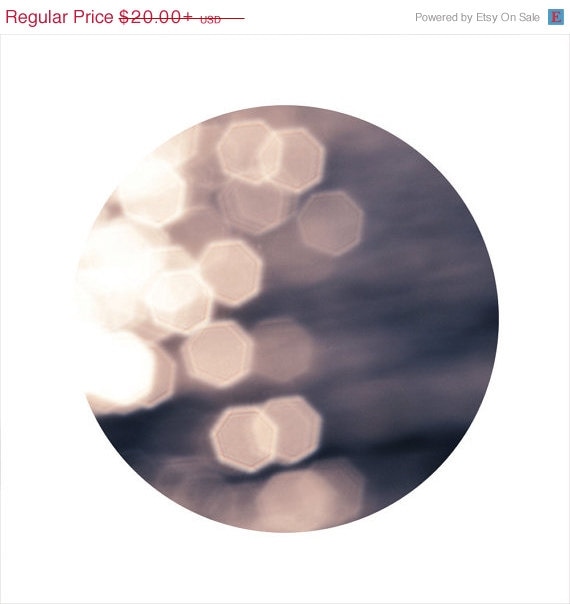 Kelly from ColourscapeStudios says, "This shot holds a special place for me, it was shot on an afternoon when things hadn't gone our way that day and so we decided a beach walk was in order. We were rewarded with a gorgeous sparkling sea which cheered us up immensely!"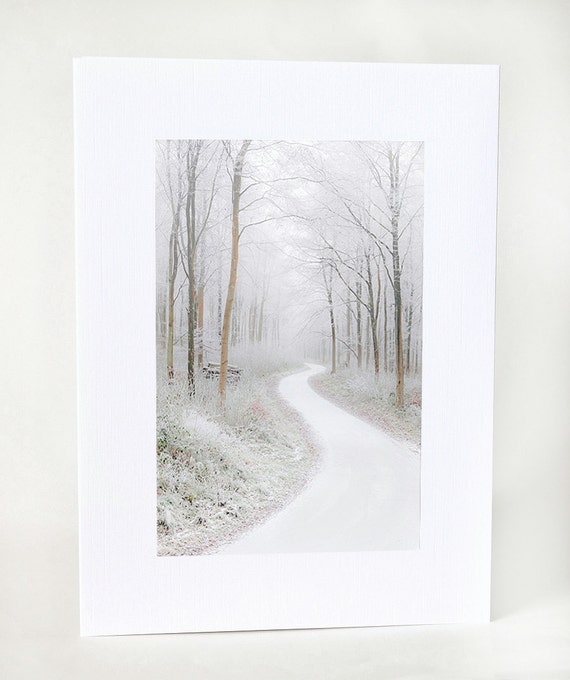 Ren a from renphotographycouk says, "I live across Europe away from my family and do not get a chance to see them as much as I would like to. I have always send them high end cards, to let them know how much they mean to me. When I took up photography, I started to send them my prints in cards. My memories of searching for really stunning cards for my family has made me decide to offer my cards for sale to the whole wide world. This is one of my favourite Christmas cards, because the whole of north Wiltshire looked magical and sugar coated for one day when I took it. Also taking it I had to be a bit of an "outlaw" and ignore a sign "do not climb on the wood". For law abiding citizen like me, it was quite an adrenalin."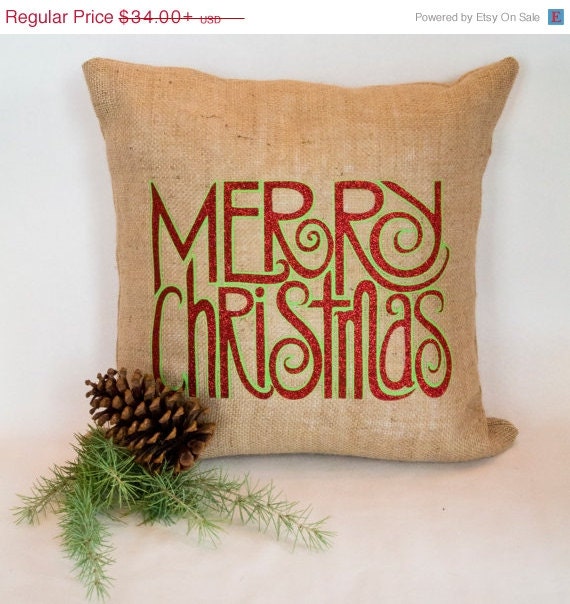 Belinda Speights from MyPillowShoppe says, "I design custom pillows that make a statement in your home. I place my pillows at a reasonable price point which makes it easy to mix up your décor. They are perfect for a chair, bed, or front porch, my pillows make a perfect gift- even if it's just to yourself."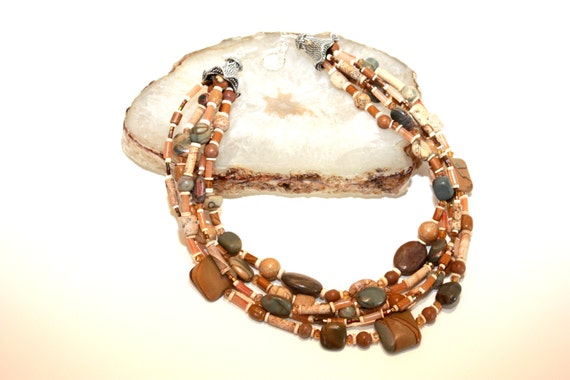 Desert Dabbler from DesertDabbler says, "I made this necklace to reflect the colors and feel of the southwest, my new home. I'm a mid-west transplant who gave up lush, green grass when I moved away from the ice and snow. The desert is hot and dry, but it is filled with its own beautiful, earthy colors."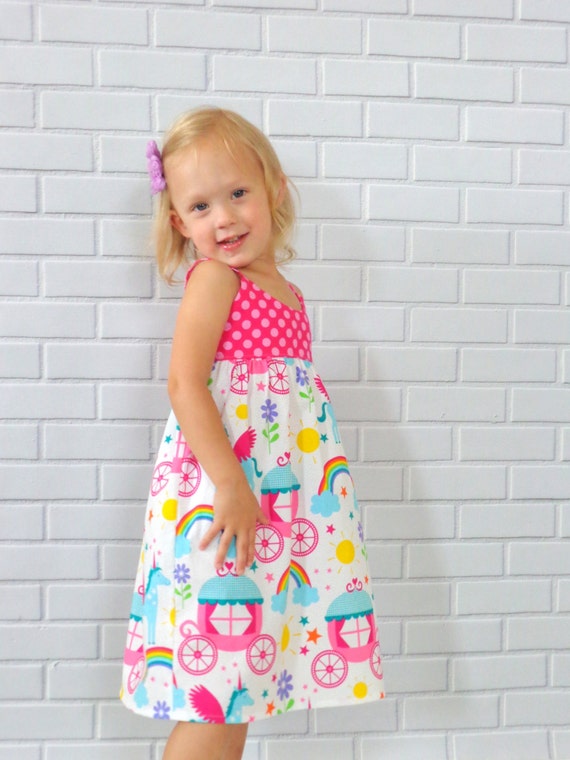 Elizabeth Scheffler from LuckyLizzys says, "I created this dress because my 3 year old loves unicorns. Add in some rainbows, a Princess carriage, and little bit of sunshine and you have the perfect little girls dress. It was an instant hit in my house and it will be in yours as well!"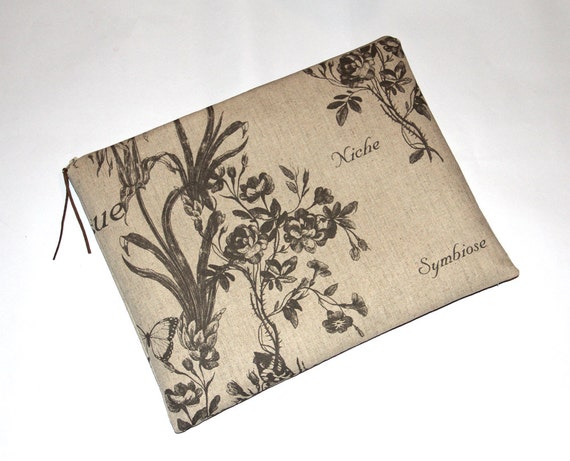 Handmade Covers from HandmadeCovers says, "I have made this sleeve using an Italian fabric, it looked attractive to me and thought of turning it into a laptop cover. When done, it turned out nice and I proudly put it up my shop for sale."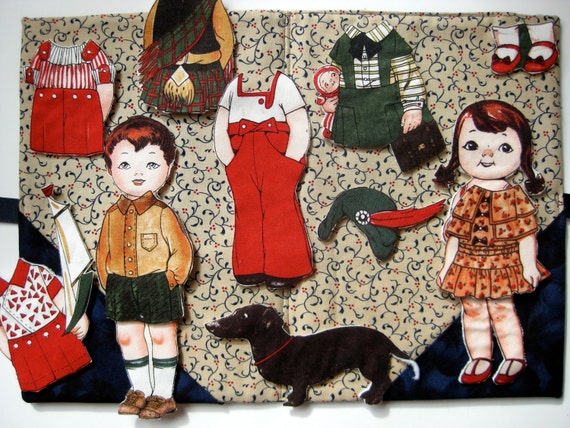 Sally Manke from SallyManke says, "I made these fabric paper dolls because I have such happy childhood memories for the Betsy McCall paper dolls that came each month in my great aunt's magazine. Today's kids are tuned into so many battery operated electronic toys with little exposure to true creative play. These simple toy provide that. What a great "church" quiet toy or travel activity for a trip to grandma's house this summer."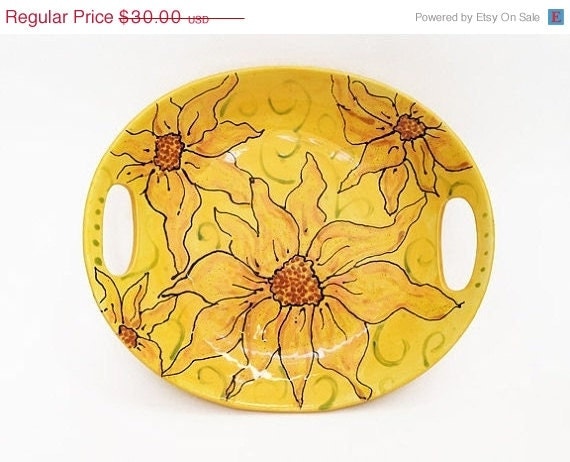 Carolyn T from Butterflykilns says, "This lovely platter is a piece I designed for Spring 2014. I have always adored sunflowers, as I am influenced by Van Gogh's 'Sunflowers' series. I first saw his work displayed at the Louvre in Paris, then again in the National Gallery of Art in DC. I love his work of dynamic brushstrokes with bright colors juxtaposed together. His work is a true inspiration for me, and that makes this piece pretty special, too."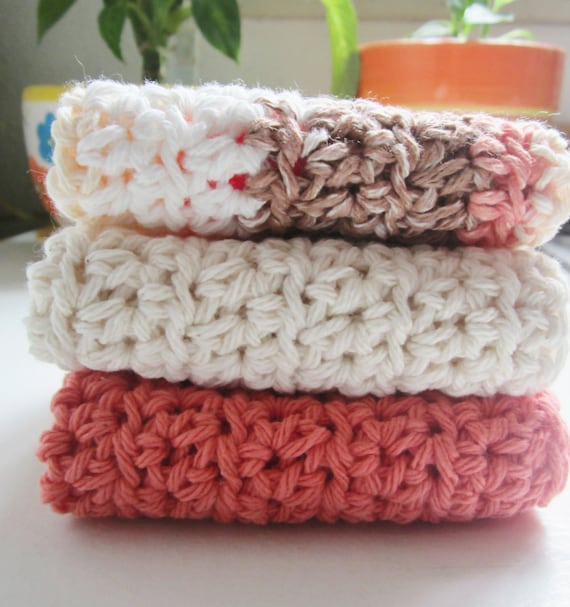 Jennifer Acevedo from JennCrochetCreations says, "These beautiful 100% cotton eco friendly washcloth/dishcloths come in a variety of colors to fit any kitchen or bathroom. Perfect for housewarming, wedding, Christmas and birthdays or just to say thank you."
Paula Rodriguez from BridgetsCollection says, "I crafted these little ornaments with thoughts of family time through the holidays. They are made from C-9 lightbulbs, which we used to decorate the tree. They carry little sprigs of spruce, and their happy, smiling faces remind me of the joy and excitement I felt about the holiday season.These ornaments are made to just sit on a branch of your tree… and make you smile."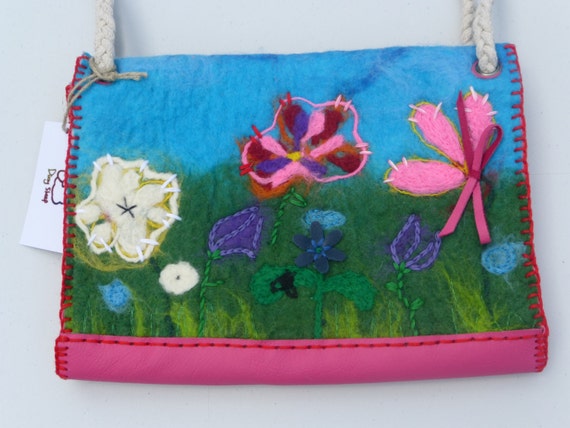 Natali from DizzySheepUK says, "In my designs I am using a soft vibrant feltings and leather. I use only natural materials. All my felted pictures are hand made from merino wool tops 64's (23 micron) quality. I am using only real leather, high quality linen and cotton.Every item designed and made by me.I am introducing something new to every item I make, no two the same, everyone is unique."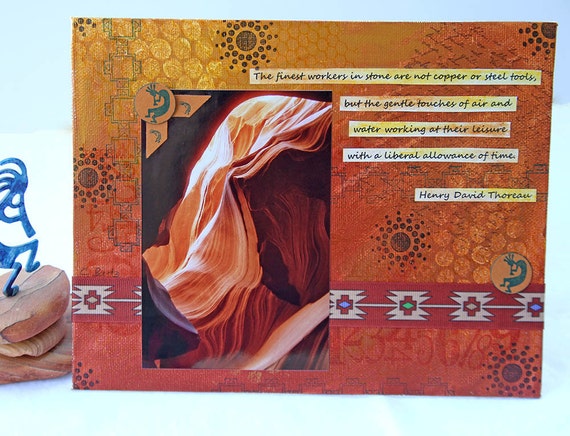 Carola Bartz from CarolaBartz says, "Quite some of my art is inspired by the American Southwest. I am fascinated by the landscape – the desert and the red rocks. I love the colors that I associate with the Southwest – everything from yellow over ochre and all kinds of shade of red to burnt sienna. I love the legends and art of the Native Americans who live in this area. All of this comes together in this photo mixed media painting. I took the photo in lower Antelope Canyon near Page, AZ. Antelope Canyon is one the most fascinating slot canyons located on tribal land. You can only get there if guided by a Native American. While the painting's colors remind of the hues of the American Southwest I also included some characters I associate with Native American culture, like Kokopelli. This for me symbolizes the American Southwest in all its mystery and beauty."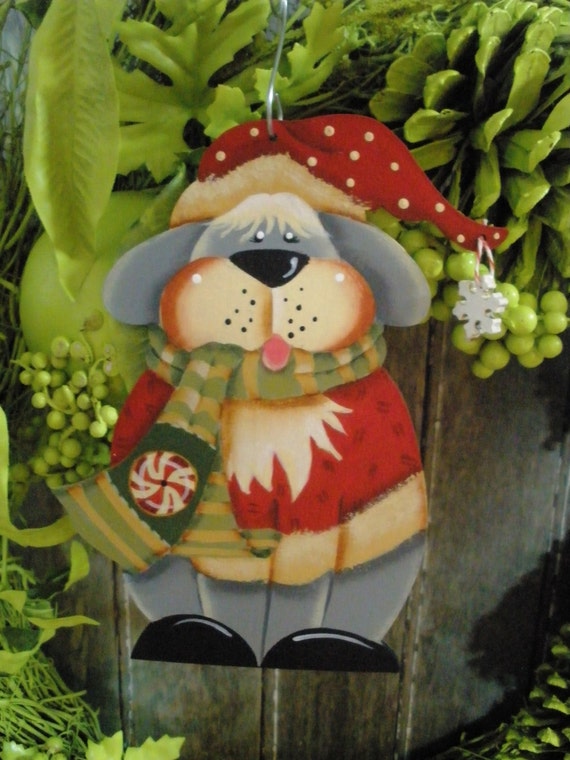 Catherine Lee from LeeArt says, "Everyone loves their dog, so it was fun to paint a lovely dog ornament for the holidays."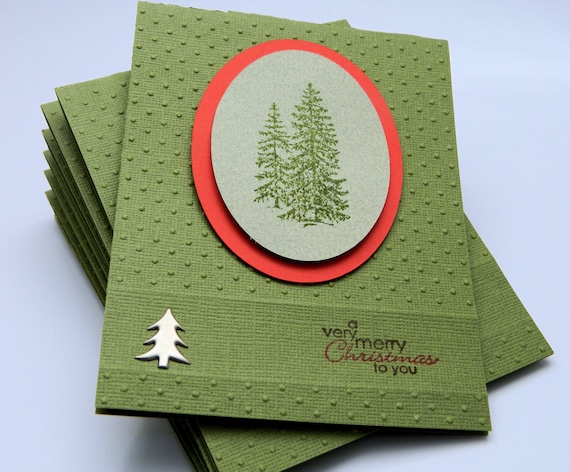 Catherine Clifford from DesignsByCnC says, "I have been creating handmade Christmas greeting cards for many years to send out to family and friends. In 2006, I was given the opportunity to design and create 300 Christmas cards for my employer to send out to clients. This was so successful that it became an annual event! Family, friends and co-workers have given me support and encouragement to begin selling my greeting cards. After retiring from my day job, I was able to spend more time in my card studio and opened my Etsy shop in May 2011. "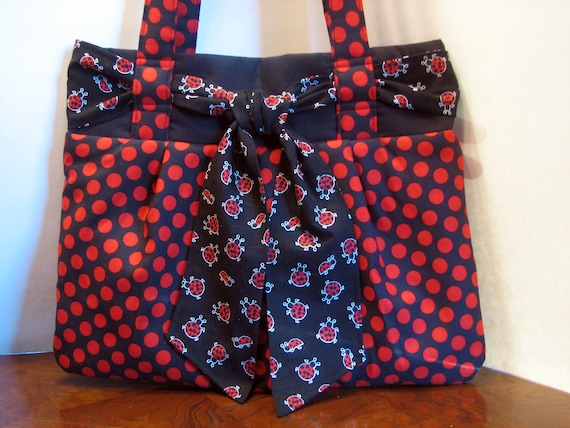 Sandy from MiladyCreations says, "I believe the handbags and totes we carry should reflect our personality, hobbies and/or interests whether it be palm trees, sports, flowers, pets, favorite video games, etc. The possibilities are endless. In my case, I'm fascinated with ladybugs and wanted to create a bag that reflected this, was fun to carry, yet maintained a sophisticated look. Custom personalized bags make wonderful gifts for any occasion. If I can't find the perfect fabric, the personalized look can always be created through machine embroidery."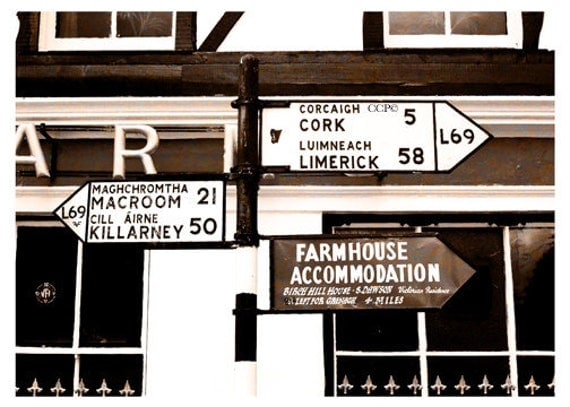 Celtic Cat Photos Mary Catherine Campbell from Celticcatphotos says, "I took this photograph on my first trip to Ireland. It was back in 1985, for DH and I it was the trip of a life time, that I will never forget. I have been back to the Emerald Isle, but the first one is the one I always think about and love the most. It was a few years later when I decided to print some of the photographs to sell at Art Shows."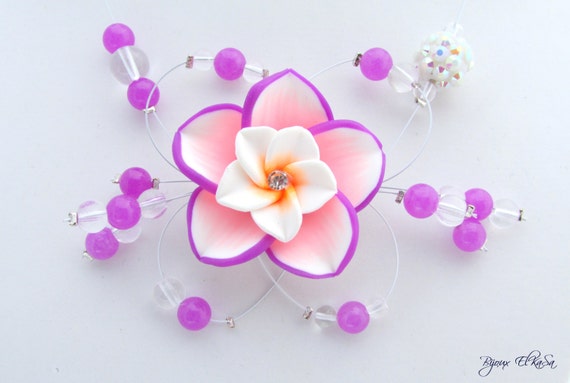 Valérie Bijoux Elkasa from BijouxElkasa says, "I do this kind of necklace to light up all the little black dress we have in our closet!! Yes this is the classic to have this black dress but why not make it different and give a touch of color and have the "wow" effect with this necklace! This is also the perfect necklace to wear for graduation or wedding."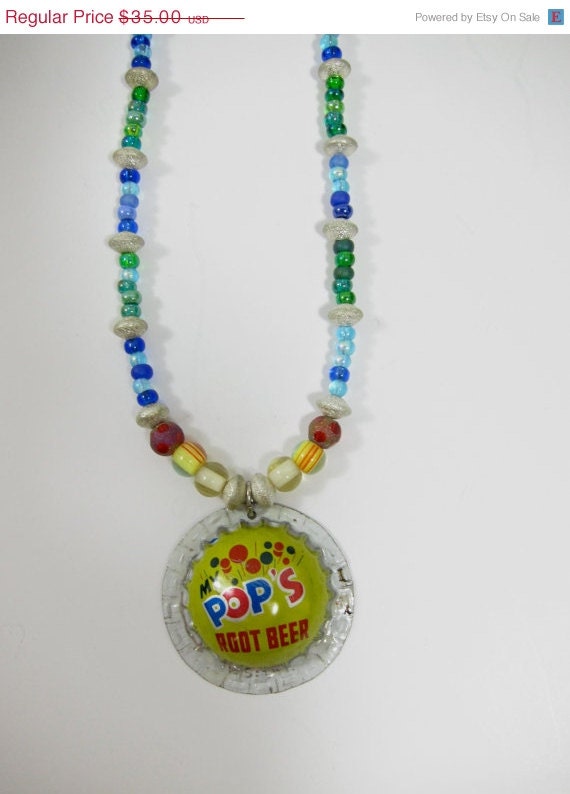 Noel from MinkCouture says, "Necklace made with a vintage soda pop charm. I love vintage advertising and graphics-things were so much more colorful and well designed! This has every color of the rainbow in it and will go well with everything-perfect for the summer and its the only one like it!"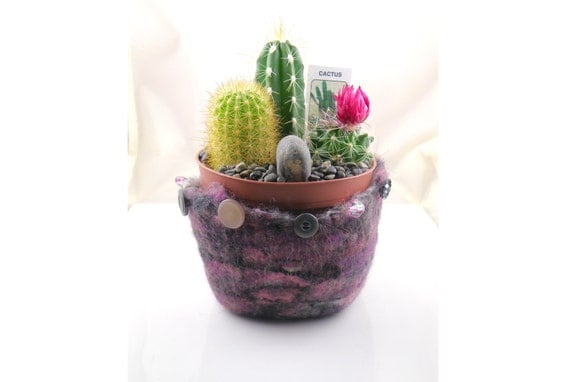 Elizabeth Wellburn from ElizabethLovesGlass says, "When I experimented with Pendleton selvedge wool and found that it could be mixed with roving wool to create a sturdy, structural type of felt, I was delighted. I started making bowls of various types and I love to adorn them with vintage buttons and beads. They are light in weight so they're easy to ship and the total of bowl and shipping to anywhere in the world is under $50."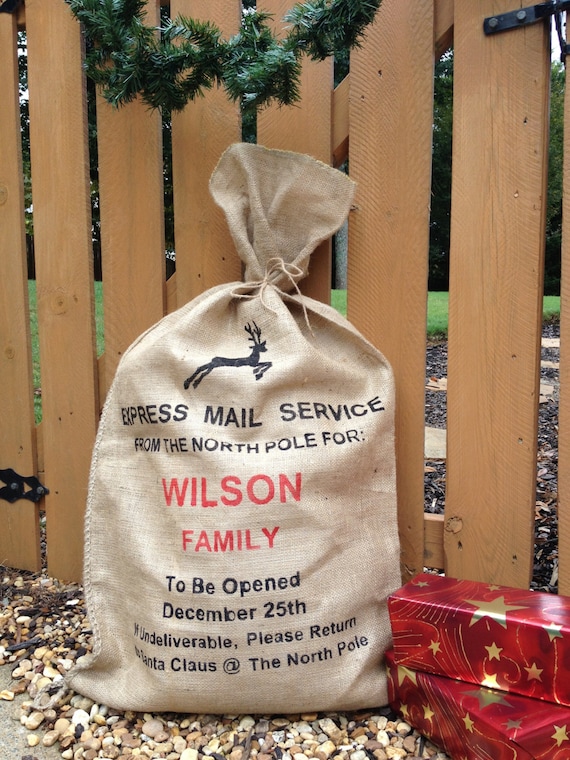 Santa Bags from santabags says, "I first made these for my boys for Christmas. They were a huge hit.Then make your child feel that Santa Claus delivered their gift straight from the North pole with this personalized burlap bag. It would also be a wonderful way to package a gift to a niece, nephew, grandchild, or family."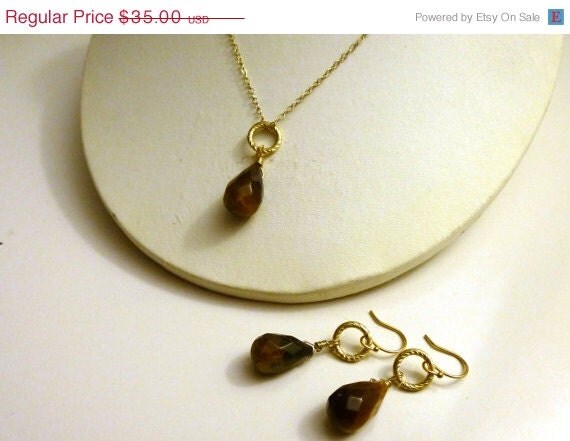 Kristen Sargent from KestrelCollection says, "Often jewelry is a "go big or go home" world, especially for romantic gifts. Big price tag and big jewels are often the must haves. For this set I had in mind the lady who likes to wear natural colors and wants fine jewelry quality but not the diamonds or price tag. With this necklace and earring set I've created a high quality gift full of natural beauty that the reciever is sure to love without emptying your wallet. The Tiger's Eye stones are extremely well matched and have no flaws. The delicate marbling and facets shimmer honey to amber to latte in the light. Both the necklace chain and earring hooks are gold plated sterling. Hypo-allergenic, tarnish resistant, and far less prone to flaking than gold over base metal."
Melanie from WoodlandMarket says, "I decided to make these necklaces for myself, and since they worked out I decided to sell them for a reasonable price so that others could enjoy this style as well! I love boho style, and these gemstone and suede necklaces are something I have had on my mind for a while, so I'm glad I finally got to make them!"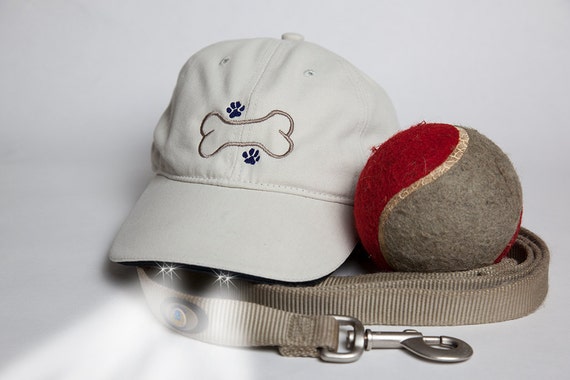 Barbara Snyder from VividDogStudios says, "Ever struggle when walking your dog at night with the leash in one hand, flashlight in the other and needing and extra hand to pick up? I did. So I set out and found a Hat with Headlights then designed and stitched this fun design on the front. And Oh how many ways this hat can be used… so I designed more and stitched more…. take a look through my shop and see…"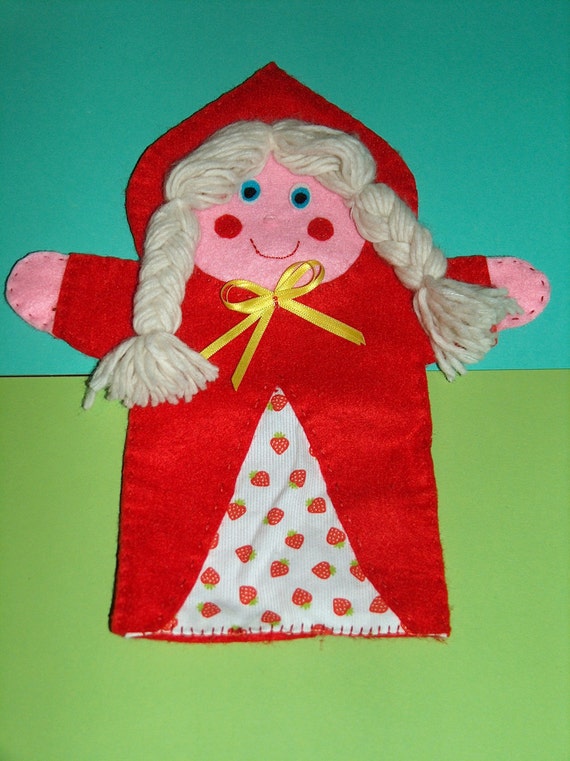 Barbara from SALENTOFELTSHOP says, "I like too much to tell fairy tales to my daughters and I love to use puppets to make them happy! I made these puppet because they like little red riding hood! I like to work with felt and make puppets, I like to model the smiles and the faces of the characters of my puppets, it seems that a piece of fabric can live thanks to my hands… like Geppetto with Pinocchio…"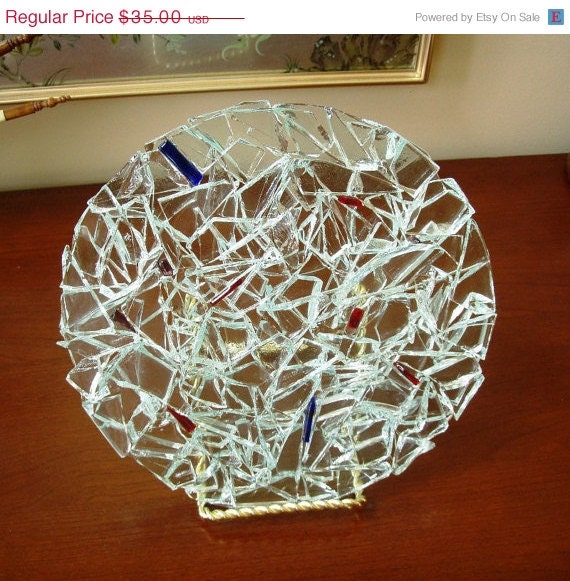 Rose LAbbate from rosepetalsjewelry says, "This display plate was made from the broken top of a coffee table. After we resized the table the top no longer fit so I broke it up. Thinking about the kiln I had at home I decided (much to my husband's dismay) to pack it up and bring it home from the Caribbean with us. I think TSA is still shaking their heads."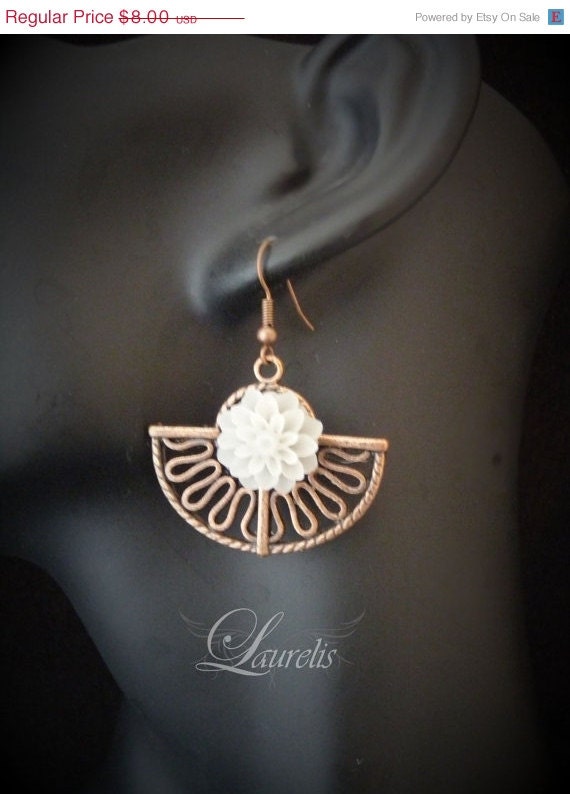 Zlatka Minđek from LAURELISjewelery says, "This earrings are a part of my non silver simple collection of earrings – I tried to be true to my style, and quite frankly, I like them. They are not exclusive and complex, but simple and maybe already seen, but affordable and pretty!"
Hope you will find something special from this lovely Under$50 collection!