Contributor post by Catherine from DesignsbyCnC
Food not only nourishes us and provides fuel for our bodies, food also has a long history in art.  Most often food is the object of our still life paintings and photographs.
These days, food plays a huge role in our visual culture:  social networks such as Facebook and Pinterest are filled with photos of meals and recipes.  Food surrounds us with a colorful palette ranging from the warm hues of oranges and apples to the cool hues of blueberries and plums.  Often times we are inspired by the texture of our food.  How many times have you taken the mashed potatoes on your plate and created sculptures or mountain landscapes?  Ever notice the hot bubbling surface of your pizza, reminiscent of an oozing lava flow.
I asked the handmade artists of the Etsy Christmas In July Team to tell how food inspires them and to share an item from their store that captures this inspiration.
Kelly from ColourscapeStudios shared this special moment:
I always had fun with Mum in the kitchen as a kid, especially when it came to baking cupcakes! There was nothing better than the treat at the end of licking the beaters… she always turned them off thankfully!
Dawn Whitehand from DeeDeeDeesigns shared her inspiration:
I am very inspired by food – especially eating it! So I love-making ceramic tableware to enhance the eating experience. I find unique handmade pottery makes a meal more intimate and special, and this is what I try to capture in my one of a kind tablewares.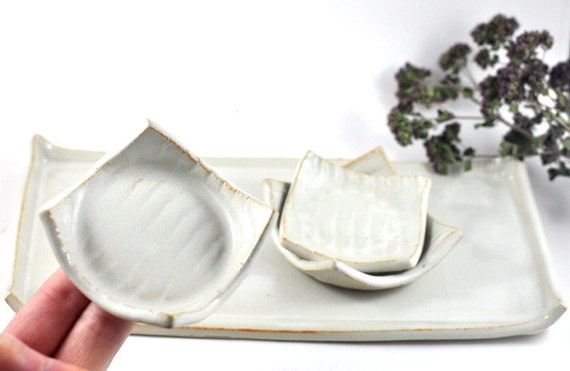 Tapas Sushi Serving Set
Karen Hafel from timetalentjewels had this to say:
When spending time in the kitchen I always enjoy using my handy little Wool Felted Hot Pads. Using them to take out hot dishes from the oven and also having others to use as a trivet. These are nice and thick and I just love them.
Corkycrafts from Corkycrafts responded:
I love to cook and garden too. When I posted these seeds in my shop I call them Canary bird flowers but after researching them at Texas A&M and found the blooms and the foliage are edible, with a delicious peppery flavor perfect for garnish or salads. I have not eaten them in a salad and prefer it more as a flower….but you can try it!
Richard and Tatiana from DesignstheLimit answered:
Many of the gifts in our shop are centered around food. We offer personalized cutting boards, cheese boards, herb chopping blocks, cutlery, and serving trays. We have a deep love and appreciation of wine and spirits and often pair our serving trays with our personalized glassware. We accept custom order requests for any combination of the products in our shop, for custom graphic design requests beyond the design options available in our listings, and to include any of our additional gift services including gift wrap, gift cards, and redeemable gift certificates. @Designsthelimit we offer customer service to bring your ideas to your gift recipients door in the style you design.
Sue and Misty from shabbyshopgirls remarked:
What better way to be inspired by food, than to peruse a vintage cookbook! There are so many interesting recipes, not to mention, great menu planning for events, cocktail parties and great information on cuts of meat and measurements!
Dana Hamant from LilybeanzBowtique stated:
My children inspire me daily. They are constantly coming up with ideas for me to use in my designs. My middle daughter loves to bake. Her specialty is cupcakes! She makes them for all sorts of events. Friends and family rave about them. She is only 12, but I foresee a long future in the baking world for her.
This design was inspired by her and her love of baking.
Connie Lee from Bungalow42 shared this memory:
These earrings remind me of the lemon drop candy my paternal grandmother kept in a dish in her living room. Important distinction as my 'maternal' grandmother was more of a burgers and convertibles gal.
The beads are vintage Lucite Moonglow in a cheery lemon yellow. The Bali sterling silver 'fancy' headpin give the appearance of a small cluster of grapes on the end. Yum, I think it is snack time.