Contributor post by Catherine from DesignsbyCnC
Teaching is a time-honored profession dating back to the learned men of ancient times.  Priests and prophets taught children of the wealthy and noble the skills to take up their roles as leaders and businessmen. The priests' position was elevated above many strata of society, and they were treated accordingly for their knowledge and wisdom. Teacher appreciation was a widespread feeling, and respect for teachers was proportional to their high value in those societies.
In 1944, our political and education leaders discussed the need for a national day to honor teachers.  It was not until 1953 that a National Teacher Day was proclaimed by the 81st Congress after some persuasion by Eleanor Roosevelt.   Congress declared March 7, 1980 as National Teacher Day.
The National Education Association continued to observe Teacher Day on the first Tuesday in March until 1985, when the National PTA established Teacher Appreciation Week as the first full week of May.  The NEA Representative Assembly then voted to make the Tuesday of that week National Teacher Day.  National Teacher Day is an "unofficial" National holiday.  This year National Teacher Appreciation Day is celebrated on Tuesday, May 3.
Teachers are the unsung superheroes of our lives today.  Every day they not only educate, but also support and inspire millions of children.  Their work and impact extends far beyond the boundaries of the classroom.
It is the perfect time to say "thank you" to the special teachers that you know.  Let them know that they are appreciated for all that they do and for the difference they make in our lives.
The members of The Christmas In July Team have come together to salute our teachers with lovely gift ideas to let them know just how much they are appreciated.
Sue and Misty from shabbyshopgirls shared this story:
I used to have a band teacher who called every one of the girls, "Gracie".  He was great!  A pillar of patience and encouragement to do better.  What fun it was to be in his band class!  There are many of us who would love to present a lovely gift to a teacher that has made an impact on our lives!
Rachel Placek from LoveandPetFurCrochet had this response:
Most of my favorite teachers were English teachers which was lucky because I'm math minded.  Those English teachers really seemed excited about their job and took personal interest in their students.  They also explained things simply for those of us like me who had a tough time wrapping our minds around word creativity.  I would love to give them one of my Owl Mug Cozies with a nice coffee mug as I believe a little caffeine every day helps to keep the mind sharp.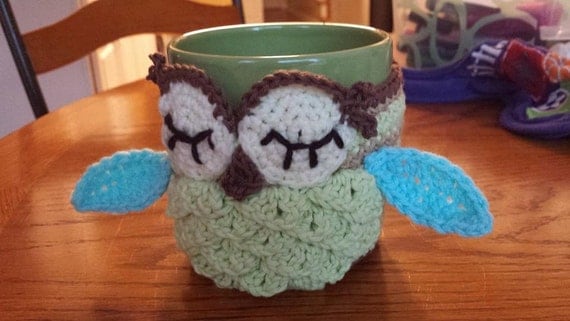 Crochet Owl Mug Cozy
Stock Lane Studio from StockLaneStudio said this:
I'm a former teacher and have witnessed and participated in a wide variety of teaching a learning styles from around the world.  I've had loads of favorite (and well, yes, not so favorite) teachers myself, but some of my favorite teachers are the ones who taught my own children.  A few of them really stand out because of the care and interest they showed in making sure my child succeeded and learned to manage my child's special needs in the classroom and how to even adapt the classroom to her special needs.  We spent many hours discussing ways to make things work and they were always positive and caring.
Here's a printable motivational QUIET sign that celebrates all the amazing things teachers and kids are doing in their classrooms.  Sometimes it's important to make a lot of noise in class, sometimes students need to concentrate in silence.
Carola Bartz from CarolaBartz says:
My favorite teacher was my fourth grade teacher.  He was a wonderful, very tall man who never raised his voice (which was still pretty common in the 60's).  He taught us a lot about life, how some things are more important than others – like being kind, considerate and helpful.  My class was very diverse with kids from your typical middle class family and a high percentage from way poorer families.  He managed to get us all in the same boat, work together and respect each other.  He was a true teacher for life who taught me the most valuable lessons.
Richard and Tatiana from DesignstheLimit had this to say:
Even though we always recommend pre-planning a personalized gift to our customers, we often find ourselves scrambling to get our daughters teachers a gift for appreciation day, Christmas, and at the end of the year.  These pens are perfect as they do not take long to complete! We will offer free rush order for the following pens for anyone looking for a last-minute gift with a personalized touch for their children's teachers this year.
Sarah Johnson from BellaBoutique23 responded:
It is hard to pick just one, I had so many teachers that were very influential in my life.  Mrs. Curtis and Mrs Thorne were two that really stick out and even became friends as I got older.  It was really neat because I ended up becoming a teacher and worked in the same school with them.  Mrs. Curtis was the principal at the school at which I worked.  They both continued to come along side me as an adult and mentored me.  I hope as a music teacher I had the same impact as they have had on my life.