Contributor post by Elizabeth of CottageCraftsOnline.com
Please join us in welcoming Nancy Hall  of Victorian Rose Prints, our featured member!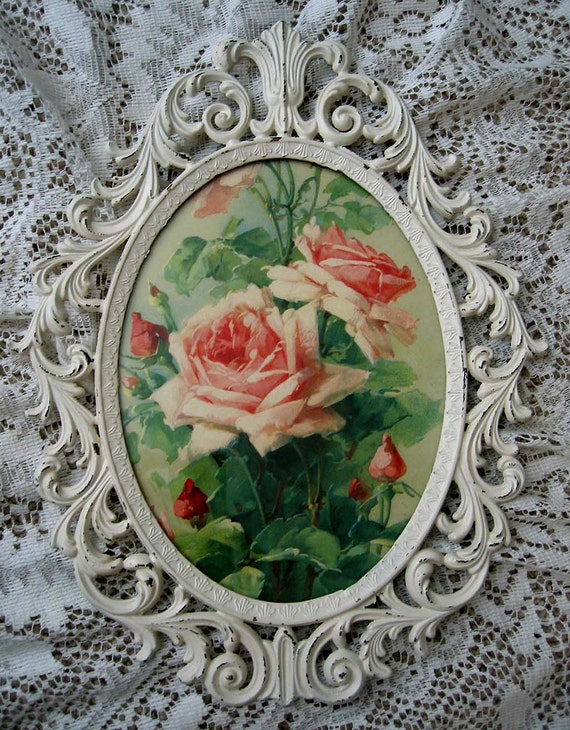 Tell us about yourself.       
I began collecting old antique prints in my 20's, and I always tell folks they drew me to them because of their "curb appeal". There's something about the old 1890 chromolithograph prints that is just incredibly beautiful. All of our reproduction prints are taken from these old studies. We have mostly roses, but also have pansies, violets, animals, and more! It's a great way to redecorate inexpensively, as well as to repurpose the prints for your craft projects.
When did you open your business and what make you decide to do so?
I am the author of a book on a French Victorian watercolorist, Paul de Longpre (b.1855, d. 1911). I originally put my reproductions online to draw in folks who might be able to add some information to my book. The reception and demand for his prints was enormous, and now I also offer other artist's prints, and have folks who paint for me.
Tell us a bit about your products.           
We make rose and flower reproduction prints. They are made at a professional graphics firm, and we approve each and every one of them as they are made, in person, on site. We print them on heavy stock, and the color layers are thick and beautiful.
What inspires your work?           
Victorian art has always been my passion, the Realist style of painting, that is, flowers in their natural form. The old art is just so different from what we see today. We feel the history of how each print was made, and the Victorian artist behind it, is just as important as the image itself.
What are your future goals for the business this year? What is your dream for this business?         
We are always introducing new prints for market, and are currently using our prints in re-purposed items such as framed prints in old antique frames, mirrors, windows, and more.
What makes your business stand out from businesses that sell similar products?
We sell prints that other vendors do have not. We have our own unique line, and tend to not duplicate what someone else has on the market. Our extensive collection of old prints allows us this flexibility.
Tell us a bit about your work space. Do you have a separate studio?
We are a home based business.
What have you learned since opening your business that you wish you had known before hand?
It is always hard to gauge what the client is looking for, but what we do know now is that the demand for roses, pink in particular, never seems to decline!
Any advice for those thinking about selling on Etsy?
Just go for it! Each person has their own niche, discover your potential.
When you're not working, what do you like to do to unwind and have fun? Do you have any hobbies?
I am an active antique collector, and also enjoy fly fishing!
What is your favorite quote?
"Do what you have to be happy in this life" (from the Bridges of Madison County movie)
Where can people find out more about your business?  
You can go to our online site on Etsy, www.etsy.com/shop/victorianroseprints, our own website: www.victorianroseprints.com, and also our Ruby Lane antique website at www.rubylane.com/shop/victorianroseprints.
  Is there anything else you'd like to share?         
In addition to Etsy, we also sell the ANTIQUE prints on our Ruby Lane website
________
If you would like to be featured, please go to the CIJ Etsy Forum and fill out the questionnaire. Please note you must be a member of the CIJ Etsy team to be featured.