Contributor post by Anna of Unexpected Treasure
Please join us in welcoming Donald Bauman of DJ Wood Crafts, our featured member!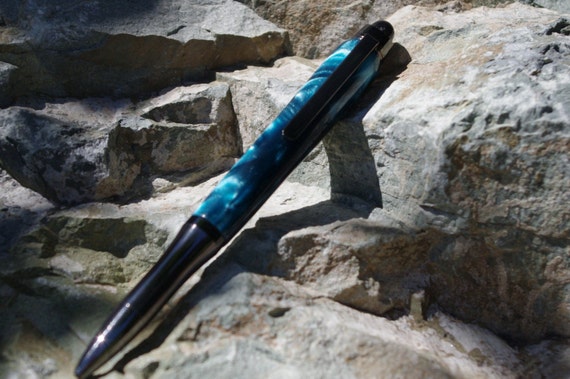 Tell us about yourself.       
I was introduced to the lathe and tried my hand at a few wine bottle stoppers and was hooked. I started making pens and things progressed from there. I find turning beautiful wood relaxing and creative.

The first step in crafting quality wood goods is choosing the material. I craft my products from beautiful wood from all over the world which makes it interesting. Every piece is one-of-a-kind. I use different finishes such as the CA finish, friction polish or oil finish. I use attractive and durable hardware in stainless steel, antique brass, rose gold, gun metal, and chrome.
When did you open your business and what make you decide to do so?
May of 2013. I was enjoying creating items and each one being so different and I was giving many away as gifts. I was encouraged to start selling my items and looked into Etsy as DJwoodcrafts was started.
Tell us a bit about your products.           
My products are one of a kind and each created differently. I let the movement of the lathe and whatever comes to my mind at the time create my pieces. I use domestic and exotic wood. I use quality metal components for my pens, wine stops, wine corkscrews, key chains, letter openers, pepper mills.
What inspires your work?           
The thing that inspires me is creativity the lathe allows. I believe quality is just as important and creativity. If it is not a quality piece of craftsmanship the creativity will not stand alone.
What are your future goals for the business this year? What is your dream for this business?         
I would, as most, love to do this full time. My goal is for many people to enjoy my unique and quality products as much as I enjoy creating them.
What makes your business stand out from businesses that sell similar products?
I feel my business stands out because of the great care to detail I put in every item.
Tell us a bit about your work space. Do you have a separate studio?
I work in my basement at home. I like being able to create when I want. Right now, it is the perfect place for my business.
Where can people find out more about you and your business?
https://www.etsy.com/shop/DJwoodcrafts http://www.djwoodcrafts.com http://www.pinterest.com/djkbau/dj-woodcrafts https://twitter.com/djkbau
Why do you believe people should buy handmade, such as your products, vs. buying mass-produced products from box stores?
My products are very much one of a kind and are a perfect gift item as well. My items are made with great detail and care. I have had several repeat customers which demonstrates that my items are what they are looking for. I have had some people state that the item has to feel good to them in their hands and the wood has to speak to them.
What have you learned since opening your business that you wish you had known beforehand?
I would have loved to have found Etsy before now. I have learned that you never know what people will be drawn to.
Any advice for those thinking about selling on Etsy?
Do not be in a hurry. People will find you. Keep creating.
When you're not working, what do you like to do to unwind and have fun? Do you have any hobbies?        
I do work full time now but hope to just create wood items full time.
What is your favourite quote?        
If we are facing in the right direction, all we have to do is keep on walking. – Zen Proverb
Is there anything else you'd like to share?        
Never be afraid to do what you love.
________
If you would like to be featured, please go to the CIJ Etsy Forum and fill out the questionnaire. Please note you must be a member of the CIJ Etsy team to be featured.