Contributor post by Anna of Unexpected Treasure
Please join us in welcoming Connie Lee of Bungalow 42, our featured member!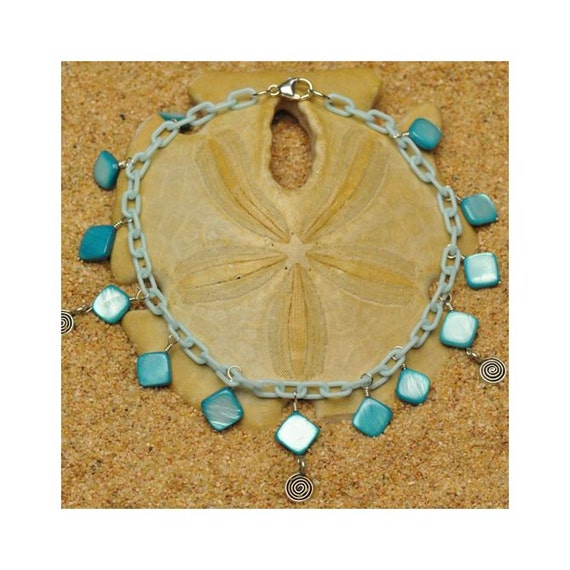 Tell us about yourself.      
I answered the most difficult (for me) question last though it was the first one on the questionnaire. One of the most challenging aspects of opening my Etsy shop has been the need to overcome my propensity for privacy. Also, I just don't see myself as that interesting.  Not great fodder for an engaging bio question – right? If I pretend that I am talking to a new friend who has expressed interest in my life story I would probably summarize my professional career in the music business.  Not the glamorous side mind you… my roles were predominantly tech related and in project management.  Next I would probably describe my creative endeavors which spanned years but intensified significantly after my mother passed unexpectedly five years ago.  I found some vintage African white heart beads that I subsequently learned were very old while cleaning out her studio.  This was surprising as my mother was a potter but she was always squirreling away odd bits and pieces with the firm belief that she would eventually find a way to use them.   It was shortly after my mother passed that I had an opportunity to seriously focus on jewelry design.  My first formal design included those vintage white hearts.  Heartened by the support of friends and family and the pure joy derived from this creative process, I decided to seek instruction, research tools and techniques all while working to improve my skills. I am grateful to my aunt Dianne for constantly reminding me that my mother would be so proud of her daughter's new endeavor.
When did you open your business and what made you decide to do so?
May 22, 2014. As is probably true for many Etsy shop owners, I started making "adornments" for the women in my family:  relatives and what my friend Kathy calls the "family you choose". My friend Audrey christened my work as adornments which sounded perfect to my ears.  I also owe a debt of gratitude to my friend Hilary in NYC who has her pulse on the nuance of what's kitsch and what's "krap."  And an "oh wow" to my cousin Kelleigh who was delighted to report that my shell earrings were a hit at her local LA coffee shop. This family of women has been my inspiration, guinea pigs, unfaltering fan club and enthusiastic supporters of this new endeavor. Also, like many others, no doubt, I decided to open my Etsy shop because of their encouragement and belief in me.  I can only imagine how many Etsy folks first heard the words "you could sell these!" from a member of their family.  I personally found these words to be humbling, inspiring, exciting and frightening.
Tell us a bit about your products.           
My "seriously whimsical adornments" pair sterling silver findings, gemstones, seashells, pearls, vintage and handcrafted beads from around the world with delicate but sturdy plastic chain, silk thread, leather and waxed linen. I have always been drawn to fun, whimsical pieces but the quality of the findings and the workmanship was always important.     Weight and humor is a major focus in my work.  I strive to create lightweight pieces that won't weigh you down but will hopefully make you smile. An instructor who was reviewing my work summed it up stunningly.  She said that the pairing of sterling silver findings with vintage beads, shells, freshwater pearls and plastic chain conveyed a "take me seriously" element.  I was struck by how easily she succinctly described what I was trying, albeit unknowingly, to achieve.
What inspires your work?           
I have to admit this is not something to which I have given much thought… but I think that people are a primary source of inspiration and endless fascination in my work and in my life. In deciding to open my Etsy shop, to take this next step or giant leap off a cliff, depending on the day's mind set, I thought about how intriguing it would be to make pieces for people I do not know and will likely never know. This is so completely opposite of that which initially inspired me.  I would find a pretty color of freshwater pearls, eye-catching seashells, an unusual vintage bead or bit of colorful plastic that would remind me of someone I love.
What are your future goals for the business this year? What is your dream for this business?         
My goals for the business are modest.  My pieces are mostly made from vintage and/or limited stock.  I have no desire to create the same piece over and over again.  My work is not going to appeal to a massive audience.   Not everybody is going to intuit plastic or bookbinding thread as serious jewelry components.   My goal this year is to find that niche group of people with similar sensibilities. Not (previously) a social media maven, I am working to cast a bigger net for that niche group with the aid of social media.  Improving my social media tools is a goal for this and future years. My dream?  Getting the shop open and having total strangers purchase and appreciate my work… well that is pretty much a dream come true already.
What makes your business stand out from businesses that sell similar products?
My hope is that my business will stand out because my pieces are fun, unusual and well made.  I strive to describe the pieces as if I were chatting with a friend including nerdy history or factoids. Customer satisfaction is enormously important… being responsive to customer queries and shipping promptly are just as vital as creating well-crafted pieces from quality materials. My first five star review was such a rush.  I can only hope that every purchase will be similarly prized.
Tell us a bit about your work space. Do you have a separate studio?
Not a particularly novel start, like many others my initial work space was also our dining room table.  Most of my tools and materials were stored a flight down from the dining room and many of my initial photos were taken a flight up on the balcony. Last summer we moved to a larger space where I was able to carve out a comfortable work area in our shared office and studio. Having a dedicated work bench, room for photography equipment and ample (for the moment) storage for tools and materials all in the same room on the same floor feels positively lavish by comparison.
Where can people find out more about you and your business?
http://www.bungalow42.com/content/about
Why do you believe people should buy handmade, such as your products, vs. buying mass-produced products from box stores?
Not everyone can afford nor are they drawn to handmade products. Affordability is always a consideration in my work.  I realize how relative the term "affordable" can be but with that goal in mind I vowed to work within a retail price ceiling of $100.  Most of my pieces are well below that price point. For those who are drawn to and fortunate enough to be able to purchase handmade items, I hope that they are swayed by the unique and well-crafted elements of my work.
What have you learned since opening your business that you wish you had known beforehand?
It's still early but I hope/expect to learn much in the coming years.  I anticipate thinking "I wish I had known that beforehand" many times over.
Any advice for those thinking about selling on Etsy?
Do the homework/research.  Read the Etsy Success emails and other related documentation. If photography is a new skill, give yourself plenty of time to work on your photos.   In the first year my skills improved dramatically but of course that meant that I wanted to reshoot my entire inventory – several times.  Had I just focused on a few pieces until my skills improved I could have saved myself a lot of time. Etsy sellers are also Etsy buyers – usually not in that order.  Look at your favorite shops and think about why you are drawn to those shops.  In addition to the products sold, consider the different components of these shop that you find appealing.  If you focus on these components when you plan and build your Etsy shop, chances are that you will be pleased with the results.
When you're not working, what do you like to do to unwind and have fun? Do you have any hobbies?        
Spending time with my husband who is also my best friend is my favorite way to unwind. We love sharing movies, good food and wine, books, politics and time with friends.  He's also one of the funniest and kindest people on the planet.   I am a very lucky girl.
What is your favourite quote?        
Honestly I don't have a favorite quote, as I can never seem to commit one to memory but I am fond of this one: "It is never too late to be what you might have been." ― George Eliot

________
If you would like to be featured, please go to the CIJ Etsy Forum and fill out the questionnaire. Please note you must be a member of the CIJ Etsy team to be featured.