Contributor post by Anna of Unexpected Treasure
Please join us in welcoming Kristen Sargent of Kestrel Collection, our featured member!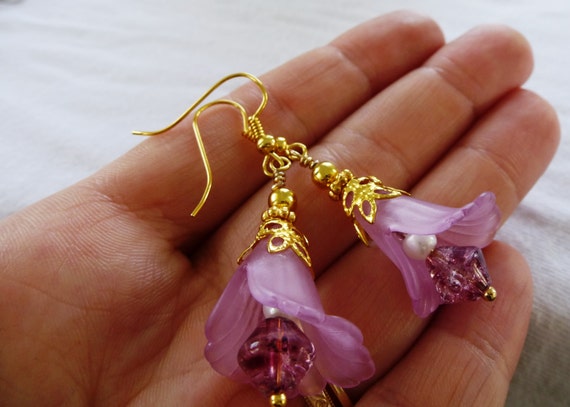 Tell us about yourself       
I'm a contradiction.  I'm not shy but I am quiet.  I could easily get up in front of a crowded bar and have a blast with karaoke and a few friends but most weekends I prefer to be at home with my husband and our 2 crazy calico cats, either reading a book or making jewelry. My career is R&D Food Science.  I LOVE working for a big brand food company where I get to make tasty trendy foods that people will bring home to nourish their families.  The analytical side of my mind is challenged every day as I focus on nutrition and safety for our customers.  I get to exercise my creative side, too, when I'm in the test kitchen making up new recipes. But I have a lot of pent up creative thoughts and energy that left me restless until I found jewelry making. I've always been a crafter.  When I was 14 I started tailoring and then making some of my own clothes.  In high school I picked up embroidery and shortly after college I hand sewed a queen sized quilt.    Each new project I tackle is BIG.  I like to learn and challenge myself.  I want to feel I've earned new skills with large goals.

But that quilt took me a year and during that time I didn't feel I could share with anyone until it was perfectly finished.  My creative outlet was still stifled because after all the quiet work at home I wanted to get on that stage and sing out my art to anyone who would listen. Then I found jewelry making and it was perfect!   Each piece could be a new challenge and each piece would be small enough to tackle in a few days and then I'd be showing it off to the world.   At first I just made things for myself and everything I made was an excuse to learn a new skill.   Wire wrapping? Sure! Bead weaving? OK! Pearl Knotting? Bring it on! I love to sketch out jewelry I see as I watch TV or while I'm out and about so I can try to imitate the parts that inspire me.   (Yes, my lab notes at work are sometimes accented with earrings and necklaces doodled in the corners!)   So I've even improved my drawing skills through jewelry making. The funniest thing about all this is my mom said I used to fill notebooks as a wee girl with drawing after drawing of shapes I'd call earrings.  I'd tell everyone I was going to design jewelry when I grew up…and that I was going to be a scientist.
When did you open your business and what make you decide to do so?
I opened my Etsy store in April of 2013.  Having been an Etsy shopper in the past I knew it would be a supportive environment and that they have the technical tools in place to make start up easy. It was an easy decision to open my hobby into an Etsy storefront because the amount of jewelry I had made in just a few months was out of control!  I had more than I could ever possibly enjoy on my own.  Many people were stopping me at work or when out shopping to compliment the pieces I was wearing and even asked to buy the jewelry right then and there.  When I realized other people like my art work it became less about voraciously trying new skills and more about refining my skills and making the best product.
Tell us a bit about your products           
My current focus is wire wrapped jewelry and strung bead work.   I work mainly with glass, pearls, and natural stones but I also like to use vintage beads of any material type.   Most of my work is one of a kind. I feel jewelry should be as unique as the person wearing it.  My customers should know that no one will have exactly what they picked out.  For this reason, I like to buy beads in small quantities and pick out everything I'll need for a particular piece at the same time.   Right now I sell necklaces, earrings, and bracelets and I'm working on adding hair combs and barrettes, bookmarks, and anklets too. I also do custom work for bridal parties and brides, or any other custom request.
What inspires your work?           
My inspiration is quick as a flash of lightning.  An idea will come to mind and I'll race to sketch it out wherever I am, at home I pick my materials and colors, and get started.   Inspiration comes from anywhere. You'll see my shop is a little eclectic and tends to go in waves of ideas. Currently period costumes in movies and TV have my eye. I also take inspiration from nature and my love of fantasy fiction so you'll see a lot of flowers and fairy themed items.
What are your future goals for the business this year? What is your dream for this business?         
My business is small and still gaining traction.  I have a ton of goals! As far as the business goes: This year I want to increase my page views and favorites over last year's highest 30 day average. I plan to solidify my branding by making a matching banner, icon, and business/thank you cards. I want to get some Christmas and Valentine's Day themed items out ahead of schedule and with promotions lined up. I'd like to create a few standard bridesmaid listings with lots of variations and options to choose so the customer can pick out what they like (even every girl with different jewelry) and really see what they are building. As far as my skills are concerned: This year I plan to learn bead weaving and I'll reverse engineer a few complex pieces I admire.
What makes your business stand out from businesses that sell similar products?
You never know what styles you'll find in my shop.  I love everything!  The one thing you can count on is quality.  I am very focused and very picky and I won't list any product until I'm sure I can be proud of it.
Tell us a bit about your work space. Do you have a separate studio?
I have a secretary's desk that houses all my materials right now and shelves where I keep the finished products and shipping supplies in labeled baskets.
Where can people find out more about you and your business?
I have a Facebook store page www.facebook.com/KestrelCollection
Why do you believe people should buy handmade, such as your products, vs buying mass-produced products from box stores?
Buying handmade supports the artist.  Whether like me the artist loves hand making for entertainment and personal growth or perhaps the artist is supporting herself on her art, either way that is so much more real and exciting to me than buying mass produced. Also I think the quality of handmade can't be matched.  A great artisan will only sell things that are good for their name and they will stand behind their work because it's good for the customer. And my third reason… variety!   The Big box stores always follow each other doing the same trends with barely any spin on them.   I like to give people options!
What have you learned since opening your business that you wish you had known before hand?
Marketing and promotion, the business end of the business takes up a lot more time than I thought. In the last year I've developed a few systems that help me work more efficiently but it would have been so much better to know that going in and had my systems ready to go.
Any advise for those thinking about selling on Etsy?
Go for it!  And be sure to check out teams and the seller's handbook for great tips.
When you're not working, what do you like to do to unwind and have fun? Do you have any hobbies?        
Etsy and jewelry making is my hobby!!  But I also unwind from this, too.  I love to read, fantasy and science fiction mostly, but also comic books.  I'm a terrible couch potato, watching Netflix documentaries and having British TV drama marathons late into the night.  My husband is a movie critic so we go out to the movies usually every weekend.
What is your favourite quote?        
"So much to grok…." From the novel Stranger in a Strange Land by Robert Heinlein.  Grok means to learn something and understand it so thoroughly that we become a part of it.
Is there anything else you'd like to share?        
Thank you for this wonderful opportunity to share.   I hope everyone enjoyed the read and invite you all to come have a look in my shop, kestrelcollection.etsy.com.
________
If you would like to be featured, please go to the CIJ Etsy Forum and fill out the questionnaire. Please note you must be a member of the CIJ Etsy team to be featured.