Contributor post by Anna of Unexpected Treasure
Please join us in welcoming Angela Frazier of AV Custom Designs, our featured member!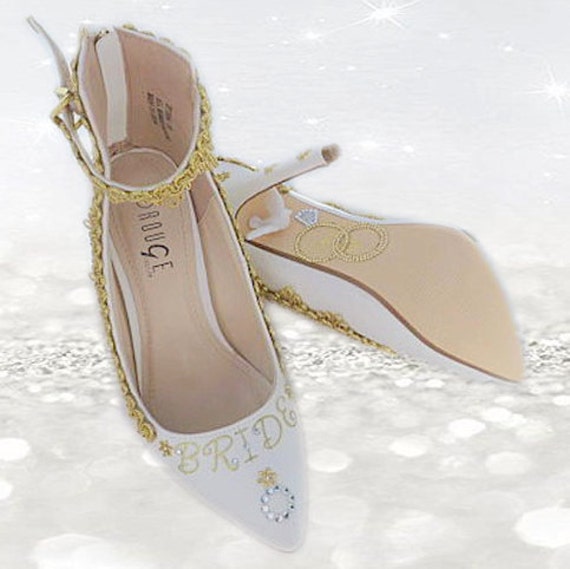 Tell us about yourself       
I am a mother of a 22 year old son, married to the man of my dreams and I have a spoiled rotten Bull Mastiff that thinks he owns the house. LOL  I work my Etsy shop full time and am still trying to leverage home life and work. I always said if I owned my own business I would work Monday thru Friday 9-5 but that's not the way it is. Sometimes I work 16 hour days, but at least I work from home.  I wouldn't change a thing – I LOVE what I do.
When did you open your business and what make you decide to do so?
I opened my shop Dec 2012 after I got frustrated looking through the web for a blinged out pair of heels with a jeweled bottom.
Tell us a bit about your products           
I create custom wedding designs, everything for the bride except the dress including bridal party gifts. I try to push the limits with my designs stepping as far outside of the box as I can. I try to create designs that people think about but are to shy to mention to others.
What inspires your work?           
I am inspired by so many different things. I can be walking in a store and see something and say "Oh my, that would look great as a veil" or I can be fishing on the lake and come up with designs that I will put together the next week.
What are your future goals for the business this year? What is your dream for this business?         
I have this silly goal but it's fun for me. I want to have my custom creations in every state of the U.S. by the end of 2014. I only have seven states to go. My dream is to design custom wedding dresses, I already have some designs sketched out so it is definitely something I see in the future.
What makes your business stand out from businesses that sell similar products?
The great thing about my creations are that there aren't really any other shops that do what I do. Before I create something I look around the web just to make sure there isn't anything out there like what I am wanting to create.
Tell us a bit about your work space. Do you have a separate studio?
I have an office and shop combination. It is separated by my shipping station. Me and my husband plan on building a new home by the end of this year or early next year and I plan on my shop being huge. My husband owns his own business where he builds homes so he has already started the plans for the new house.
Where can people find out more about you and your business?
Etsy About page: https://www.etsy.com/shop/AVCustomDesigns/about
Facebook: https://www.facebook.com/avcustomdesigns
Pinterest: http://www.pinterest.com/afrazier362/
Twitter: https://twitter.com/AngelaFrazier11
WaNeLo: http://wanelo.com/avcustomdesignsandmore
Why do you believe people should buy handmade, such as your products, vs buying mass-produced products from box stores?
People who create handmade designs put their heart and soul into it – I know I do. When customers purchase these products they know that there is a story behind it, a unique gift for someone special to them and it will last longer than something that is mass produced.
What have you learned since opening your business that you wish you had known before hand?
Even though I was a store manager for multiple retail stores for over 25 years the online world is completely different. You don't have the customer in front of you to talk to and they aren't able to see or touch your item. The hardest thing I have had to overcome is giving great descriptions and taking great photos. I can't tell you how many times I have redone all of my photos, descriptions and tags.
Any advise for those thinking about selling on Etsy?
It is best to research Etsy and how things work with them. Read up on forums and join in on team discussions. Ask a lot of questions so you will be able to do it right the first time and not have to redo things over and over again. It will save you a lot of time and frustration in the end.
When you're not working, what do you like to do to unwind and have fun? Do you have any hobbies?        
I LOVE to go to the lake with my husband and fish. There is nothing more relaxing for me, it is so peaceful. I am always sad when its time to come back home.
What is your favourite quote?        
Life is like a camera… FOCUS on what's important. CAPTURE the good times. DEVELOP from the negatives. And if things don't work out, TAKE ANOTHER SHOT!!!!!!!!!!!!!  I have this posted in my office and read it every day – It is just uplifting to me.
Is there anything else you'd like to share?        
I am all about helping the other guy so I have created a new Pinterest board called AWESOME ETSY SHOPS. There are so many shops on Etsy that some amazing shops tend to get lost in the crowd. This board is dedicated to the shops that create stunning pieces but have less than 100 sales. If you would like to pin your favorite shops with less than 100 sales to this board send me your first and last name via Etsy convo and I can add you to the list ( you need to have a Pinterest account for me to do so). Help me help these shops make the sales that I know they deserve.
________
If you would like to be featured, please go to the CIJ Etsy Forum and fill out the questionnaire. Please note you must be a member of the CIJ Etsy team to be featured.