Contributor post by Anna of Unexpected Treasure
Please join us in welcoming Angela Wilson of Ida Mountain Treasures, our featured member!
Tell us about yourself.      
Hello. Located in the Boise/Donnelly, Idaho area, I've always been compelled to create. I love God, and I like making beaded jewelry, photography, creating with Sculpey, crocheting, and knitting. I've been creating my own jewelry for several years, and after much encouragement from friends, I'm offering it to you here at Ida Mountain Treasures.  My daughter, Carolyn, has joined me this year in creating jewelry for my shop, and you can find her pieces in the "Carolyn's Creations" section of my shop.  Here's a photo of Carolyn wearing one of my scarves.
When did you open your business and what make you decide to do so?
I opened my Etsy shop on November 4, 2010.  Ever since shops first opened on the Internet, I've really wanted one of my own.  This way, I do not have to pay for a space in a building, nor do I have to look for someone to staff it if I want to go on vacation.
Tell us a bit about your products.           
Right now, Carolyn and I are focusing on jewelry.  I have a whopping two winter scarves listed that I've knitted, as well!  I really want to make more polymer clay items and add rag dolls as well.  I like making snow people out of polymer clay.
What inspires your work?           
I get inspired by sitting down with the beads that have caught my eye in the store and seeing what goes together.   One of my favorite Etsy shops has freshwater pearls in various colors.  These rich brown pearls reminded me of autumn:
Sometimes my kids inspire my work.  When they were little, they liked to play with Barbies and make them "live" in survivalist situations; they called these Barbies "Tribal Barbie" and "Tribal Ken".  Lol!  This necklace below came together reminding me of Tribal Barbie. It's funny where inspiration comes from sometimes!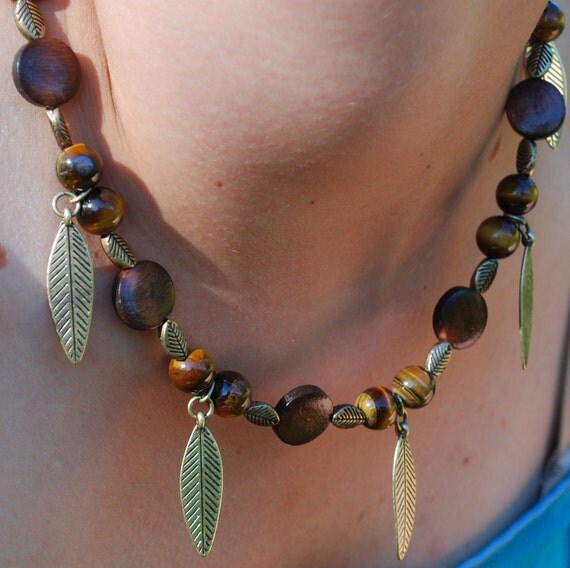 What are your future goals for the business this year? What is your dream for this business?         
This year, I really want to kick it in gear!  I plan to work harder at promoting my shop and our pieces and setting aside a lot more time for this and for actually creating more items for my shop.  I've found, that when I am busy trying to sell my creations, I will come to a standstill in actually doing what I love and making items to sell!  It's frustrating, and I have to find the right balance. It would be absolutely wonderful if my shop did so well that my husband could retire, and I could make enough money for us to travel together.
What makes your business stand out from businesses that sell similar products?
Well, folks are all different, and we each have unique ideas and personalities.  I have my own unique ideas for creations, and that's what makes me different.
Tell us a bit about your work space. Do you have a separate studio?
No, I do not have a separate studio.  I work from our kitchen table and from our little cabin in the rugged mountains of Idaho.
Where can people find out more about you and your business?
I am on the following:
My Blog: http://idamountaintreasures.blogspot.com/ FaceBook: https://www.facebook.com/pages/IdaMountain-Treasures/170813992949115
Twitter: https://twitter.com/IdaTreasures
Pinterest: http://www.pinterest.com/idatreasures/
Why do you believe people should buy handmade, such as your products, vs. buying mass-produced products from box stores?
When you buy handmade items from small shops, you help support the "little guy" and get something unique that's made with love and isn't mass-produced.  You will have something no one else has.
What have you learned since opening your business that you wish you had known beforehand?
Oh boy…..be more organized and make sure to charge enough to cover postage correctly.
Any advice for those thinking about selling on Etsy?
Don't get discouraged!  Set aside time every day to work on your creations and to be involved in teams and promoting your shop on Etsy and other places like social media.  Be organized.
When you're not working, what do you like to do to unwind and have fun? Do you have any hobbies?        
I like swimming in mountain lakes in summer and exploring on back roads in my pickup truck with my short-haired, Golden Retriever, Gilligan!  I also like to watch old movies, while I work on jewelry, crocheting, knitting,  or working with Sculpey.
What is your favorite quote?        
" For you are saved by grace through faith, and this is not from yourselves; it is God's gift— not from works, so that no one can boast." ~Ephesians 2:8-9, Holy Bible
Is there anything else you'd like to share?        
Keep on trying and don't give up!
________
If you would like to be featured, please go to the CIJ Etsy Forum and fill out the questionnaire. Please note you must be a member of the CIJ Etsy team to be featured.