Contributor post by Anna of Unexpected Treasure
Please join us in welcoming Susan Barrett-Wells of TagAlongToyz, our featured member!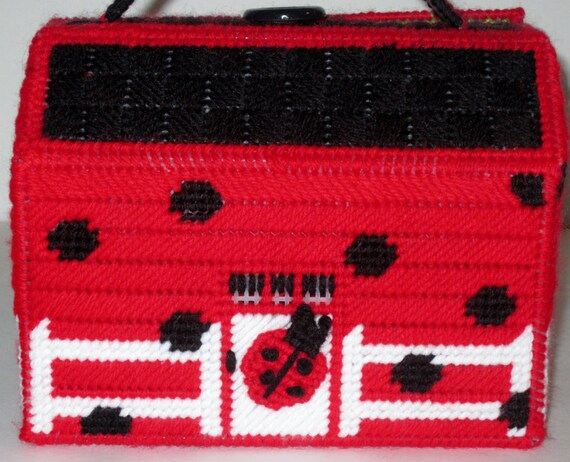 Tell us about yourself       
Hello, I was born into a long line of crafters but dedicate my shop to my grandmother.  From the time I can remember she was always creating something. I was always wearing something she created, from dresses she sewed or a hand knitted sweater to keep me warm. She taught me everything I know and helped to create who I am. When I was young I would make doll houses from cardboard boxes and play with them forever. I would paint the walls and use her fabric for curtains and rugs. When I got older I discovered plastic canvas.  When I had my first daughter I created a doll house for her.  That was twenty-two years ago. And that house survived her and all seven of her sisters.  I loved watching the smiles on their faces when I made and added new furnishings for it. And so along came TagAlongtoyz. I love creating toys that put big smiles on the faces of the little ones I create them for.
When did you open your business and what make you decide to do so?
I opened my shop in June 2013.  I have always loved making plastic canvas toys for my children. Having eight girls my first make was a doll house for their lil dolls.  My daughter, 27, passed hers down to my granddaughter so I started making new furnishings for it.  When finished, my daughter got so many compliments that I decided to give selling my wares a try, hence TagAlongToyz was created.
Tell us a bit about your products           
Welcome to TagAlongToyz where your toys go where you go.  Here at TagAlongToyz we take pride in our work.  Everything is hand crafted by Me for You.  Everything in my shop is carefully created with the finest quality materials in my smoke free home. All canvas is double thick and double stitched to ensure sturdiness.
What inspires your work?           
My beautiful children inspire me every day.
What are your future goals for the business this year? What is your dream for this business?         
I would like to be kept busy and have steady regular work…not asking to reach huge goals as I work alone and my creations are very time consuming.
What makes your business stand out from businesses that sell similar products?
There is no one that creates the toys I do as I create most of my own patterns.
Tell us a bit about your work space. Do you have a separate studio?
I work out of my home but never leave home without a tote full of canvas and yarn.
Where can people find out more about you and your business?
Facebook: www.facebook.com/tagalongtoyz
Why do you believe people should buy handmade, such as your products, vs buying mass-produced products from box stores?
Handmade products are so much nicer and more personable…they are not mass produced and there is heart and soul put into every item.
What have you learned since opening your business that you wish you had known before hand?
That you have to push to succeed.  The harder you work the more your product and name get put out there.
Any advise for those thinking about selling on Etsy?
Just do it….best thing I ever did.
When you're not working, what do you like to do to unwind and have fun? Do you have any hobbies?        
I never stop working as it is my passion, hobby, and how I unwind.
What is your favourite quote?        
You reap what you sew.
________
If you would like to be featured, please go to the CIJ Etsy Forum and fill out the questionnaire. Please note you must be a member of the CIJ Etsy team to be featured.