Contributor post by Anna of Unexpected Treasure
Please join us in welcoming Kristy Jo Roetter of Krystal Klarity Beads, our featured member!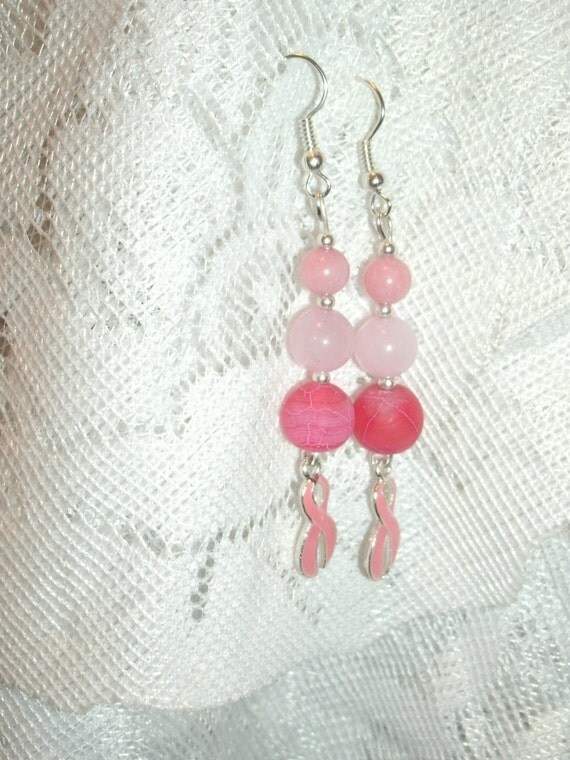 Tell us about yourself       
I am the mother of 4 (now adults) children, am owned by 3 cats and not much else!  I put family and faith at the top of my list of important things.  I believe in miracles.  I have survived several times already (severe Spinal Meningitis, an accident with the side of a semi head on, subsequent coma, DTBI, and more.) against odds, and so I do not count the odds anymore.  This, I think, is a good thing because I also got Lung cancer at 44 years old.  I had 2 surgeries and I spend every day thankful, grateful and feeling blessed.  I want to see, touch, feel, do, experience life, and it is hard sometimes to not have the money, or not have the top endurance to keep up.  I look around each day and just try to live in the now…know that I have my children (I have been divorced 16 years) and I have another day.  I want to be helpful to someone somewhere in whatever way that I can.  I think we all have that job.  Do something good, leave something better, just make a person smile on a bad day,…do, give, contribute time, money, or just your hands and heart without expecting back.
When did you open your business and what make you decide to do so?
This may raise an eyebrow or two, but I had a dream about making things, and selling things on Etsy, especially in order to help others (like cancer related, awareness, animal awareness, etc.)  I woke up and started making the shop.  The strangest thing is that I did not even know what Etsy was.  I felt absolutely "driven" for days on end until I began to relax and realize that it all felt right, it felt like I just HAD  to do it, and like it was meant for a reason.  I knew that everyone I know would give me some grief, but I did not care, this was something I needed to do.  Starting a shop may be slow, but I refuse to go back, I will continue to learn, continue to create, and to try to continue to advocate for the needed funding in research areas for cancers (most childhood cancers and Lung Cancer especially)  I never knew how to reach out for myself when I was sick.  I just want to give back something happy, inspirational, something "survivor", hope, or a smile, a calm moment, a prayer, a helping hand.  Miracles happen every day.  I know this for sure!
Tell us a bit about your products           
I need to finish getting many more things into my shop, and I also want to learn to create in other ways, but until then, I started with a few jewelry pieces (I had never even fixed a broken piece of jewelry let alone make it, but I decided God has my back!)  I started collecting pendant pieces of semi precious stones, agates, Intersia pendants, a few "staple" of just silver or gold colored ribbons, some survivor ribbons, charms, faith based charms, made a survival and hope beaded gem tree for myself and would love to expand on that with learning more and customizing.  I like miniatures and found a love for upcycling small containers, vases, shot glasses, planters, wooden boxes.  Mostly I fill them with Lucite flowers, leaves and decorative mosses and the occasional gemstone or charm.  Just starting to expand the charms area.  So- we have agates pendant pieces, Swarovski, glass, gemstones, and porcelain used in our necklaces and some being sold now under supplies.  We are willing to make something custom whenever we can, and also to change lengths/sizes on things when we can.  I have a long way to go to get stocked up enough, but the process is worth every minute!! I spent years before I found a piece of jewelry that said "survivor" in my color and cried the day it came in the mail.  No one should have to wait so long, look so hard, or not be able to get what they DO find because it is on an expensive site.  If I do not have it but know who does, I will send them your way for their happiness and peace of mind.
What inspires your work?           
I love nature and have always been outside, fishing, hiking, "rock-hopping" near rivers, trudging through the woods, finding wildflowers, seeking interesting rocks, watching water flow, and with a camera at hand for years.  I lived near the Everglades and was fascinated with what I saw.  (2 1/2 years, then back to WI.)    I believe in the energies that all life gives off–every leaf, twig, crystal, flower–everything created for us to live, or just to look at.  I know that being surrounded by nature is helpful and healing and wonderful for most of us.  As I search for these things myself to stay healthy, I am learning to help out others through my passion of all these things.  I am inspired by everything around me. I was raised with a father who had a way with building things, and loved beautiful wood and stone.  He built our homes, remodeled tons of things.  I am so thankful for that!  I am inspired by losing my father and several other relatives to cancers at early ages.  I am inspired by getting to interact online with families that face the toughest things each day and still they reach out to help, or to smile, to offer a part of themselves to someone else.   Also, my kids inspire me.  Their lives have not been easy, yet they all have good hearts and are decent human beings I am proud of.  I can pass things by them, or spend time creating with them and it is the best feeling to have that connection and time making memories!
What are your future goals for the business this year? What is your dream for this business?         
I want to get to where I can donate a percentage of all sales to cancer research, especially for those kids who have a whole life to live yet…and for the cancers (like Lung Cancer) that take an incredible amount of people with little hope (if you look at statistics), yet also, very little funding like we have been written off.  I want to help fight to keep awareness right out front.  I want to custom make things that can help someone celebrate, or heal, or just remember and smile.  When I was at my Oncologists office one day, I saw a basket of stones that said "hope" and it said we could take one.  It became my worry stone, and my hope reminder.  I would love to drop off a basket of my own sometime that gives that feeling, fills a spot for those who are too alone in this as I was most of the time. Do not get me wrong, I love just making whatever I feel like making, and learning new ways and new crafts.  I love being guided to help someone more.  To create something that I had trouble finding for myself or affording.  My goal is ways to donate, share, and eventually get out into the community and help in other ways.
What makes your business stand out from businesses that sell similar products?
Honestly?  I think there are some wonderful people out there pouring their hearts into non profit, or into donating a percentage because they have lost someone, or dealt with something themselves.  I only hope to become more like them…to have that opportunity.  I may stand apart from a lot of shops because my things are pretty much OOAK made with passion and love and faith, BUT not so much natural talent.  Like I said, I had never made any jewelry before this shop.  I did used to sew, knit, crochet, make and alter clothing, do crafts, and dream of upcycling wood into crafts with messages of inspiration on them.  Perhaps not being a true artist, a person who, perhaps, got training in school makes me somewhat limited at the moment so maybe that makes me stand out, but I am okay with that!   I like to think that the biggest reason I stand out is because I truly care.  I want to make money to give more, to provide more, but not to be selfish.  My selfish moments are the ones where I get to look at rocks and pick out a few more to work with or for the shop to offer.  It sustains me, it reminds me every day is one more gift from God, and I am happy doing this.  I am not a professional; I am not an artist (though I still dream of going to school for photography and then traveling!)  I am human, I am strong, stubborn, a fighter, a believer, and I have faith that I can make a difference, no matter big or small…a difference that helps. I have been blessed to meet a few mothers who wanted childhood cancer pieces to help them remember to hope and have faith during chemo times.  I was honored to be able to provide things and include a few things for the kids.  I am so grateful for the fullness in my heart and days filled creating for this shop.  I don't sell because it is that "latest" or the most popular, I try to be original and take a few chances….and just be myself.  I always took pride if called weird –that was always fine, too.  I never wanted to be like everyone else…and I love looking around the shops on Etsy and knowing that many people on here are the same that way.  Good, because creating comes from the heart and soul and comes out the way it does, as part of you.
Tell us a bit about your work space. Do you have a separate studio?
I am currently squeezed into a 2 bedroom apartment with 2 adult sons.  Luckily, for the first time in our lives, I took the biggest bedroom and make use of the storage area in it, have the computer set up in here, and work here, or at the kitchen table at times.  I have spent 3 or 4 days several times at my youngest daughters' house just beading together.  That daughter loves knitting after teaching herself in one night online. I have another daughter who works a great deal, but has stopped by and beaded, and she would love to contribute other types of things that are herself taught talents also.   My sons have ways they contribute, and will more when we can get the supplies they need.  Mostly, they help me carry tote after tote after basket after bag, in and out of this house!  Sometimes I take it all out to my moms and just spend the day out in the country with my wonderful mom and brother (He has Downs Syndrome, is almost 40 and yet will always be my "little" brother.)  Out in the country where I grew up by trees, fields, animals, building, watching my dad create with wood and stone, helping feed all kinds of animals, and rescuing anything I could.  I guess I have to say I create kind of while on the move, but recently have been unable to drive so am setting up more of a studio area here.
Where can people find out more about you and your business?
I am on Facebook at https://www.facebook.com/KrystalKlarityBeads/app_259525164100619

Etsy at https://www.etsy.com/shop/KrystalKlarityBeads

Twitter at  https://twitter.com/KristyRoetter

Google+ at https://plus.google.com/u/0/+KristyRoetter4KrystalKlarityBeads/about

**I would be very happy with anyone looking me up, or helping to promote, if you like or favorite or repost I certainly will do the same!!  If anyone has a question, the easiest place for me to find it is a message at the shop directly on Etsy.   Thanks!
Why do you believe people should buy handmade, such as your products, vs buying mass-produced products from box stores?
I believe people should support small business, first of all.  But if they buy handmade OOAK products from crafters, jewelers, woodworkers, artists, etc. they will have something no one else has…something made with love and passion, and often made custom, just for them or someone they love.  If you take the time to look through the things in Etsy stores and choose a gift for yourself or someone you love, then you have taken the time to get something quality, usually better made that mass produced things by far.  You will also show someone they really count a one of a kind, for a one of a kind.  There are some very, very talented artists on here.  Please, give them a chance!
What have you learned since opening your business that you wish you had known before hand?
I am just beginning to understand promoting ways, hash tags, etc.  I have spend 12-16 hours on some days doing nothing else and trying to help others also as I help myself.  I wish I had known the costs for any kind of advertising and been able to decide ahead of time about that.  I also needed to learn how to get things in larger lots to try to keep prices down for not just me, but customers as well.  I am just getting orders in now that will show this in the near future.
Any advise for those thinking about selling on Etsy?
PLAN!  Question, ask whatever.  People on here are generally quite helpful.  Read up on Etsy Sellers' Guidelines, as it also shows how to make things work better and easier.  If, like me and many others, you do not have money to promote your things, then you will need a plan on what you will do to promote.  Oh, and join teams!  Not only will most be willing to help you, but it feels good to help back!
When you're not working, what do you like to do to unwind and have fun? Do you have any hobbies?        
This kind of is my hobby!  I read a lot, watch paranormal shows (I know, I know), National Geographic type learning shows.  (Oh, and lets' not forget "River Monsters"!)  I used to be out fishing almost every single day, but I needed to build my strength back up on one side of my body and am just getting there.  I walk a lot.  One son, and one daughter also walk a lot, so I do not need to go alone unless I want to.  I read about animals that need homes and help when I can, I read blogs and sites asking for prayers for the little ones going through tests, chemo, etc.  It is sad, yes.  We would rather turn away from these things.  We need to look. Look, reach out, say a prayer, wish them good things, and know that no matter how bad you think you got it, someone else out there has things even harder.  Perspective is a good thing.
What is your favourite quote?        
"It is one of the most beautiful compensations of life that no man can sincerely try to help another without helping himself." Raayistlph Waldo Emerson
Is there anything else you'd like to share?        
"To laugh often and much; to win the respect of intelligent people and the affection of children; to earn the appreciation of honest critics and endure the betrayal of false friends; to appreciate beauty; to find the best in others; to leave the world a bit better; to know even one life has breathed easier because you have lived. This is to have succeeded." Ralph Waldo Emerson
________
If you would like to be featured, please go to the CIJ Etsy Forum and fill out the questionnaire. Please note you must be a member of the CIJ Etsy team to be featured.