Contributor post by Anna of Unexpected Treasure
Please join us in welcoming Irina Cojocaru of  HandmadebyIru our featured member!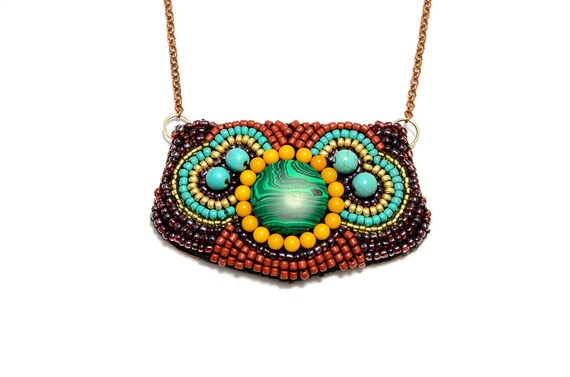 Tell us about yourself       
I'm not your average struggling artist… I don't fit the pattern of an art major… I just enjoy making jewelry and accessories, because I have strong attention to details.
When did you open your business and what make you decide to do so?
I started my shop from the need to develop my artistic side. I was bored with my job and I felt the need to be appreciated. Making accessories gave me the freedom to express myself and be proud to be able to do something on my own.
Tell us a bit about your products           
Each piece is unique or comes in limited editions. It takes a lot of time coming up with a new item, I invest a lot of time into my pieces. But once the idea is shaped in my mind, it all comes naturally.
What inspires your work?           
Everything I see in the streets, each person I meet, and sometimes the fashion blogs. I don't get inspired by retail collections, mass production is not my thing. If I really wanted to copy a product from retail I could, but then I would just keep it for myself.
What are your future goals for the business this year? What is your dream for this business?         
This business gave me the freedom I needed from a spiritual point of view. It would be great if it could bring me a financial freedom, but I know I would have to invest more time to make that happen.
What makes your business stand out from businesses that sell similar products?
My pieces are very different and are not a variation of the same product as I have seen in many other shops.
Tell us a bit about your work space. Do you have a separate studio?
I work from my home and I like to feel comfortable when I make something. So if the piece doesn't need machine sewing I prefer to work on the couch.
Where can people find out more about you and your business?
My Etsy about page will give you some info and I'll try to update it with work in progress.
Why do you believe people should buy handmade, such as your products, vs buying mass-produced products from box stores?
Handmade products have soul.  They have positive energy and the maker's personal touch. You can't buy that from box stores.
What have you learned since opening your business that you wish you had known before hand?
The customers will never see your items with your eyes. So try as much as possible to be objective when setting your goals.
Any advice for those thinking about selling on Etsy?
Stock up! If you start your shop with just a handful of items like I did it will take a lot of time before you start selling and give up before the world gets a chance to know you.
When you're not working, what do you like to do to unwind and have fun? Do you have any hobbies?        
My Etsy shop is my hobby at this time. I enjoy making these pieces, it's relaxing. I also enjoy long rides by motorcycle.
________
If you would like to be featured, please go to the CIJ Etsy Forum and fill out the questionnaire. Please note you must be a member of the CIJ Etsy team to be featured.