Contributor post by Anna of Unexpected Treasure
Please join us in welcoming Melody Carvajal of Carriage On Cherry, our featured member!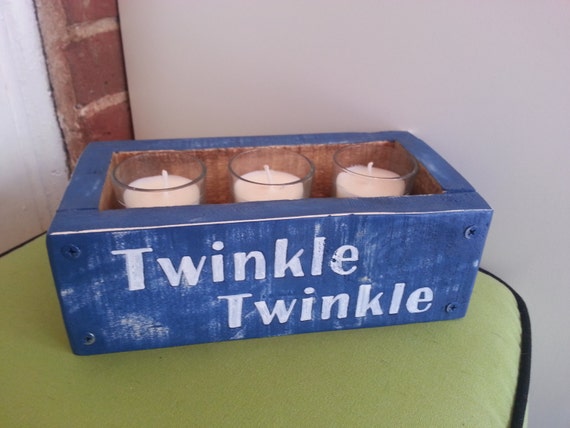 Tell us about yourself       
Our shop inspires us to think…"outside the box" and I love it! I get so excited each time I see that someone has purchased one of our products. I actually do a happy dance – just imagine.
When did you open your business and what make you decide to do so?
We "crafted" our business and opened October of 2013. I have always dreamed of having a brick and mortar store.  Esty has allowed me to interact with customers and show my personality in a fun way.
Tell us a bit about your products           
Our boxes, signs and serving trays are all made from upcycled materials. Repurposing and reusing is a greener way to craft. We hand paint our items and LOVE customized orders. I've often wondered what to do with the small brick carriage house on our property. I'm sure it can tell many a story as it dates back to 1883. The structure inspires me to dream, repurpose and create.
What inspires your work?           
Our team of crafters is small…my wonderful husband does all the painting by hand. Our goal was to repurpose items and make old wood useful again. Of course, it may have some imperfections, but the wood can certainly tell stories of days gone by, just like the carriage house. Please browse our shop and feel free to ask questions…in the meantime, we continue to look for ways to upcycle items and dream of ways to turn our Carriage House into the shop of my dreams!
What are your future goals for the business this year? What is your dream for this business?         
My dreams…to have a shop of my very own. To greet customers and see our gift packages leave the store and spot our bags "walking" down the street. That has to be rewarding!
Tell us a bit about your work space. Do you have a separate studio?
Our work space is currently an outside shop with power tools and the dining room table. Someday we will have a bigger space, but starting out small is how we know what people may like and purchase.
Where can people find out more about you and your business?
The Carriage House on Cherry is on Facebook, Etsy and Instagram! Follow and like us!
Why do you believe people should buy handmade, such as your products, vs. buying mass-produced products from box stores?
Handmade sometimes is a little more expensive, but to think someone made the item thinking of you is just wondeful. I myself turn to Etsy for almost every gift I purchase. You can find so many unique items! Try it, you won't regret your purchases and you will make the seller's day.
What have you learned since opening your business that you wish you had known before hand?
It's a journey, we learn as we go. I have made some mistakes, but that's what it's all about.
Any advice for those thinking about selling on Etsy?
If you're thinking of setting up a shop, know you will need to treat it like a job. You can do many things to improve your shop and photos. Find teams that will support you and provide insight into this online world.
When you're not working, what do you like to do to unwind and have fun? Do you have any hobbies?        
I like to window shop, gather ideas but my secret passion is showing dogs. We have 2 Great Danes and the adrenaline rush to see them win over other highly qualified dogs is just awesome!.
What is your favourite quote?        
"The human contribution is the essential ingredient. It is only in the giving of oneself to others that we truly live." Ethel Percy Andrus
________
If you would like to be featured, please go to the CIJ Etsy Forum and fill out the questionnaire. Please note you must be a member of the CIJ Etsy team to be featured.