Contributor post by Natalie
Please join us in welcoming Sprouts Press, our featured member!
________________________
Tell us a bit about yourself
Hello, I'm Carolyn of Sprouts Press.  I live and work in Toronto, Ontario out of my home studio.  I suppose you could say I'm an artist and also a crafter, a multi disciplinary creator if you will!  Primarily I'm a bookbinder but also a printmaker, drawer and painter.
When did you open your business and what made you decide to do so?

Well, I've always loved books.  I was always reading as a kid and stapling together my own notebooks and filling them with notes and drawings.  My first job ever, way back in highschool, was in a library.  Then at art college I got side-tracked from my pursuit of drawing and painting by printmaking, papermaking and book arts.
After I went to art college here in Toronto, I then studied overseas for a year in Italy. While there, I developed a real appreciation and love for hand bound books, fine Florentine papers and the artisans who craft these things by hand, with tools and passion.  I returned to Canada knowing that this was the way I wanted to live my life!  Since then I've been creating and selling my wares online, at brick and mortar shops and various book arts fairs and craft fairs.  I also love to teach my craft through workshops and courses, I'd love to start making online tutorials – perhaps in the future!
Tell us a bit about the products you have available.
As you know, I'm a book binder, which means that I hand cut paper for pages and cover my own boards (sometimes in my own handmade paper) for book covers. Then I hand bind these materials into books using a needle and linen thread and a carefully chosen binding stitch.  I love learning new hand binding techniques and am always on the lookout for used books to save and repurpose into journals or book art.  I'm also a printmaker, focusing on screen printing and block printing.  I print onto both paper and fabric, then sew the fabric into things like tea towels and hankies.  My screen printed imagery revolves around Canadian flora.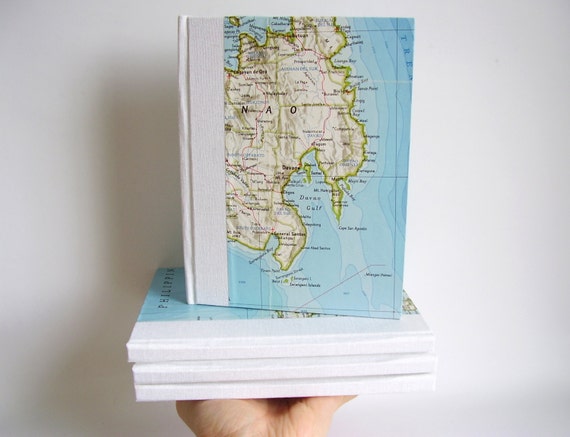 It's always a good idea to keep an eye on my shop since I'm always coming up with new ideas and products.  I think it's a good idea to change things up in my shop and keep it fresh.
One of my most recent additions are DIY Book Binding kits!  I also create personalized books, in fact I have a whole section in my Esty shop dedicated to these popular gift ideas.  In addition, pretty much anything in my shop can be tweaked a bit to suit customization.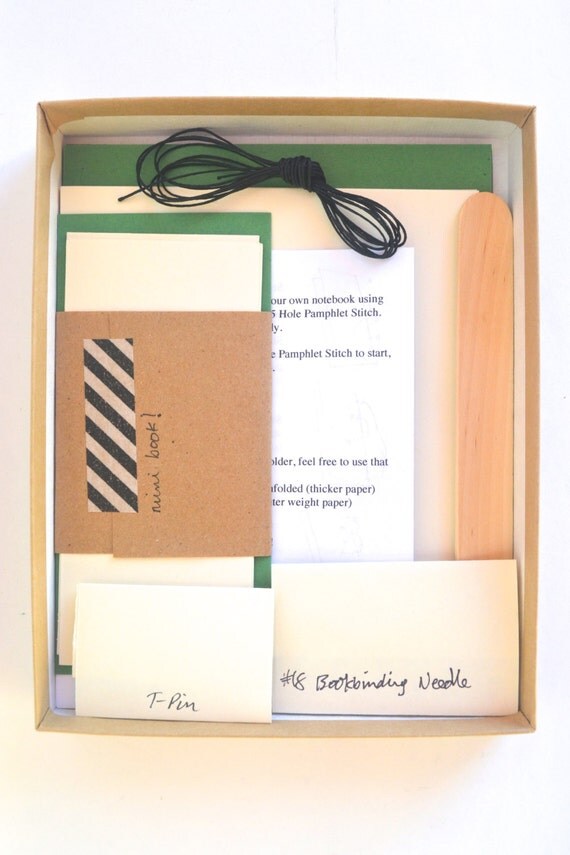 Recently, I started accepting Etsy Gift cards, and since I ship worldwide, everyone is welcome!
People often ask how to care for a hand bound book.  Well, most of my books are pretty sturdy and tested for an active lifestyle.  However, it's always a best to keep them out of humidity and direct sunlight.  And to dust them with a clean, dry cloth.
What materials do you use and which is your favorite to work with?
In all of it's glorious forms, paper.  I like my handmade paper best, specifically my hosta paper (that's right, paper made from hostas) and also my pine needle paper, which has a lovely texture.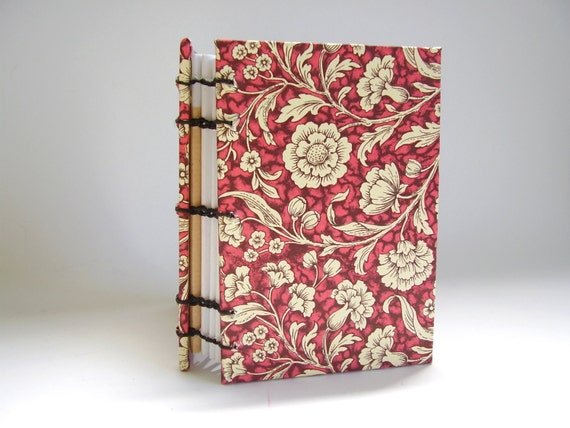 But I also love Italian printed Florentine papers, and also Chiyogami papers, known for their intricately screen printed details.
I try my best to steer clear of tree pulp paper whenever possible, so the paper I use as pages is either reclaimed paper, 100% recycled paper or found paper.
What inspires your work and new products?
My inspiration comes from so many sources: everyday observations of shapes, textures and colour interactions.   Also from my travels and the passionate artisans discovered along the way, from words of wisdom, both spoken and written.  I think being a creative maker is almost a lifestyle, it changes the way you experience life and everything sort of comes together in a really harmonious way.  Don't get me wrong, it can be a bit of a roller coaster, but in my opinion it's totally worth it.
To bring that paragraph into reality; my hand bound books are inspired by my own personal experiences with writing and sketching.  I've realized that the functionality of a book structure and how it can be designed to suit certain activities, such as watercolour painting while hiking or hand-sized journals for toting along to the coffee shop, has shaped many of my book projects.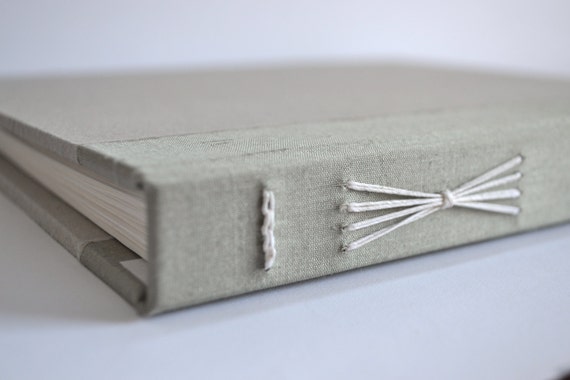 Do you have a favorite artist/genre or tv show to listen to/watch while you work?
It depends on what type of work I'm doing.  If it's writing a blog post or artwork descriptions, silence is best for focusing.  However, if I'm binding or printing, jazz all the way!
Why do you believe people should buy handmade, such as your own work, vs buying mass-produced products from box stores.  
Ha!  This is a big question, it ties into so, so , so many facets of our culture that I can only barely skim the surface here.
When I'm at local markets and fairs selling my hand bound books, there is sure to be at least one person who says 'Bookbinding, now that's a dying/dead/lost art'.  (Which it isn't, by the way.  There are many, many Book Arts fairs held world wide each year, Book Binding Guilds across the globe, whose members are in fact book binders. And there are several universities that offer not only bachelor's degrees, but also master's degrees specifically in Book Binding, with gorgeous facilities and studios.  And this isn't even mentioning apprenticeship options).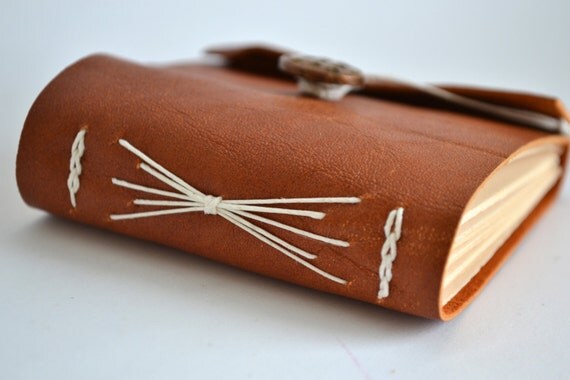 So, for me, supporting handmade admits that making things by hand is not a dying/dead/lost art, but rather a living, thriving option!!  Sure, I might not be a gazillionaire or anything, but I love my life and my work.  If others purchase my wares, that means I can continue to create.  It also means that others recognize my way of life and might even be inspired to follow their dreams, or encourage and support their friends who are following their dreams.
What are your future goals for the business this year and in the coming years? What is your dream?
Well, I have a project in the works that is going to be pretty big – I can't spill the beans just yet, but I'm pretty excited!!  Keep an eye on my blog in early 2014 for more.
Do you have any advice for someone thinking of opening their own business? Any advice for those wanting to sell on Etsy?  
I would suggest finding a mentor or a trusted person that you can go to for advice.  Also, educate yourself on the laws of operating a small business, if your art/craft is ready to be official, so should your business skills.
As for Etsy, I've said it before and I'll say it again (and someone else said it to me in the first place), partake in treasuries!  It's a really fun way to connect with the Etsy community and to build up a following.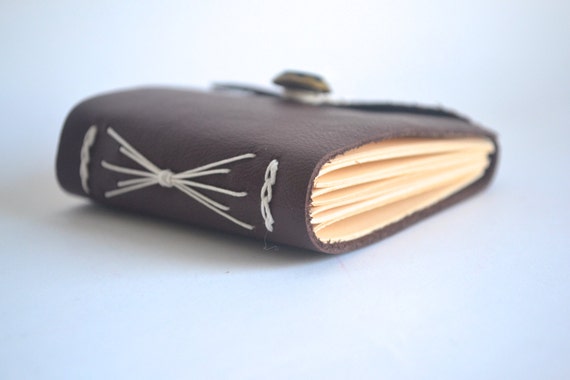 Besides your business, what do you like to do with your time?
I have many hobbies, during the summer I enjoy walking outdoors and tennis, camping and canoeing.  In the winter I tend to stay indoors and play piano (and recently the ukulele!), crochet and of course read.  Although, if it's a fresh snowfall and I've got a bit of time, I will pull out my cross country skis and enjoy the beauty of a fresh layer of snow.
Where can people find out more about you and your business?
Etsy: www.sproutspress.etsy.com
Website/Blog: www.sproutspress.com
Facebook: www.facebook.com/SproutsPress
Twitter: twitter.com/SproutsPress
Pinterest: www.pinterest.com/sproutspress/
Instagram: instagram.com/sproutspress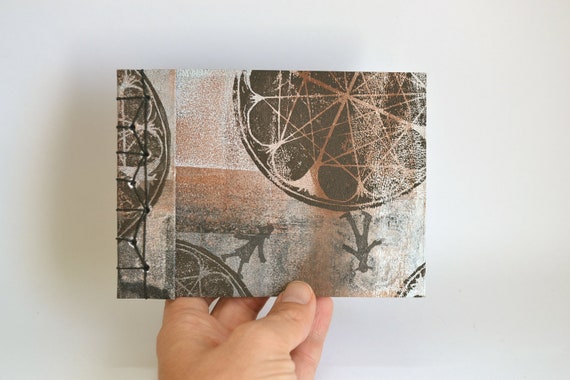 Some fun questions!
What is your dream vacation?  Somewhere warm, with culture and a beach.
Favourite Ice Cream?  Lactose intolerant.  Watermelon sorbet.
Game of Thrones or Modern Family?  Modern Family!
Rock, paper, scissors or spock?  SPOCK!!!
Urban or suburban?  Rural: Farmers Feed Cities.
Favourite book?  Current fave: 'People of the Book' by Geraldine Brooks, look it up!!
________
If you would like to be featured, please contact admin Natalie at natalie@whenshuttersclick.com. Please note you must be a member of the CIJ Etsy team to be featured.