Please join us in welcoming North and South Shabby, our featured member!
________________________
Tell us a bit about yourself
My name is Rebecca and I am the "south" of North and South Shabby.  Elliot, my dog, is my best friend. Christmas is my favorite season. I know that's not technically a season, but, it should be! The  quote that best describes me  is one by Anais Nin; "I must be a mermaid, Rango. I have no fear of depths and a great fear of shallow living." I'm an avid reader, belong to a Bocce league, love to sail ( I even have had several short jobs aka "adventures" as a deckhand/cook on extended sails) and love to do crossword puzzles.
I grew up in southeastern Massachusetts, in my great grandparent's home but gave up snowy winters for the beautiful beaches of the Virgin Islands. Looking to live closer to my family, I decided to plant roots stateside and landed in the historic seaport of Key West, Florida, where I reside now.

When did you open your business and what made you decide to do so? Any new exciting news you'd like to share? What makes your business stand out from others?
I started my Etsy shop, North and South Shabby, with my mother ( who is my other best friend) in January 2013 shortly after she retired after a career as elementary school teacher.   My mother and I would often chat about ideas we saw on Pinterest, which led to us making what we saw, then improving on what we saw, and finally experimenting with new ideas.  We found that both our homes were getting filled with all the treasures we were crafting and finding. That's when we decided to open North and South Shabby. We both share a love of vintage and shabby, and combined, we come up with some great ideas! We consider our style to be nautical shabby.
Besides being one of a small number of shops being co owned by a mother and daughter, I think the fact that we co own the shop and live over 1600 miles apart makes us quite unique as shop owners.. The other feature I feel makes us stand out is that we only feature products that we would use as part of decor in our homes. We have never created or collected anything that we would not be happy to display in our own homes.
Tell us a bit about the products you have available.
We offer handmade crafts, revived gems, vintage jewelry mosaics, and vintage finds all with either a shabby or nautical theme.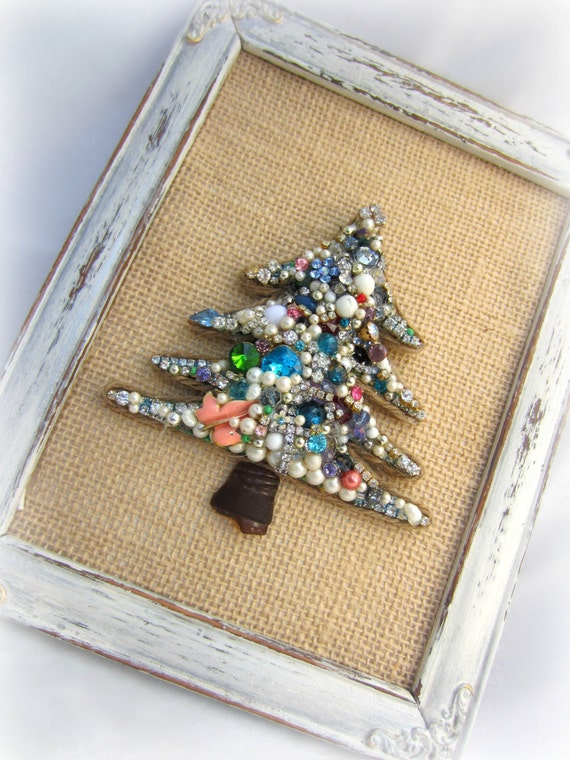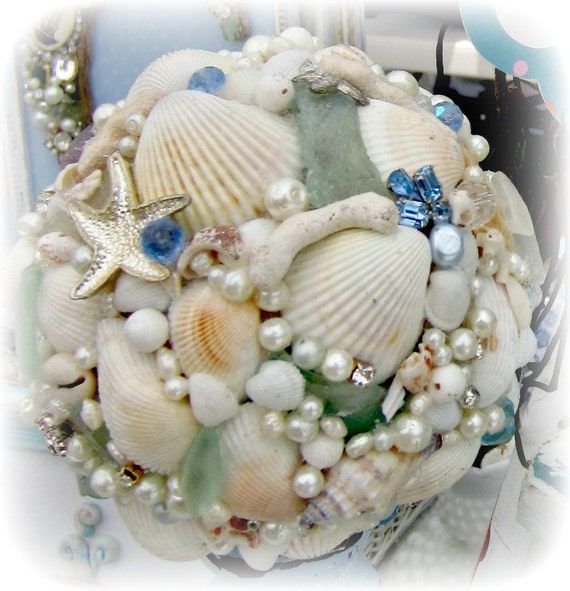 We will be adding to our Seasonal Sparkles section of our shop with more Christmas and Holiday items soon. Recently I have started hand painting customized wine glasses, and will be adding them to the shop in the near future. My vintage jewelry mosaic monograms , which are composed of vintage costume jewelry pieces, sea glass and shells are absolutely customizable. Customers can see a sample listing, and convo me with their choice of letter that would like handcrafted.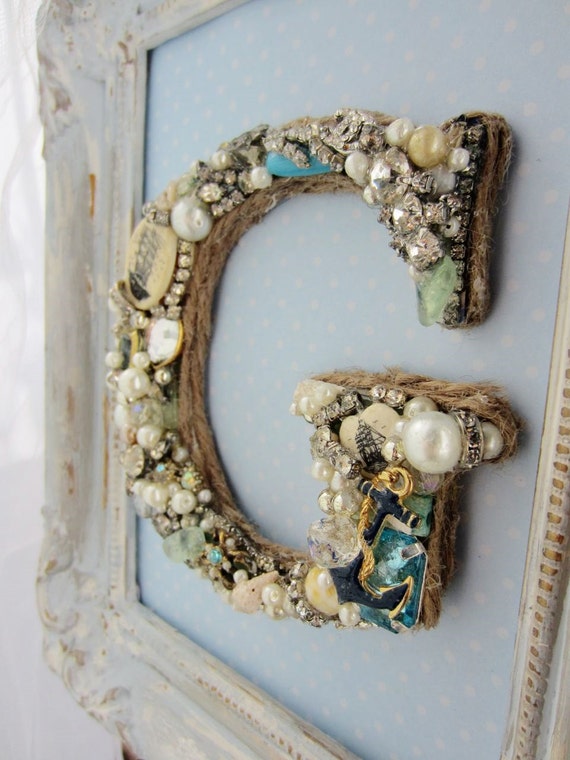 We have been equally successful selling revived gems that have been given a distressed shabby look, vintage jewelry mosaic art pieces and vintage items.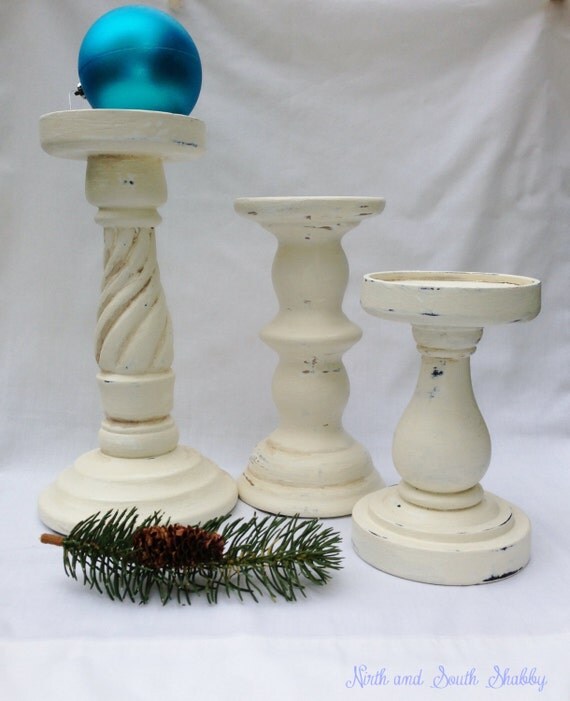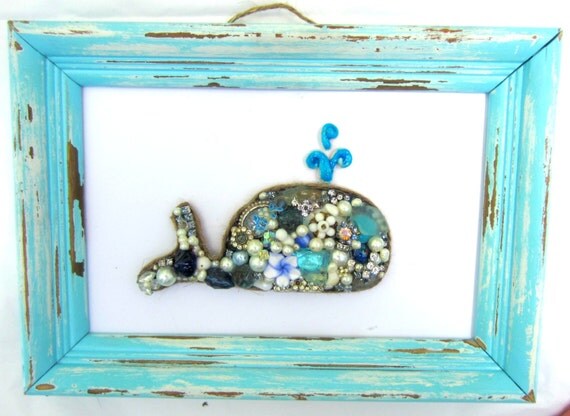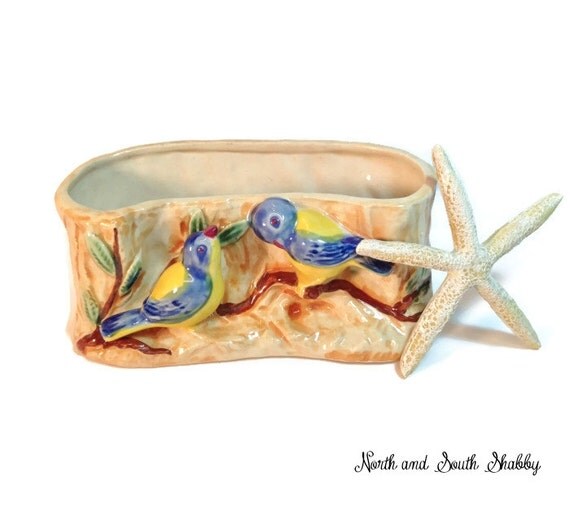 North and South Shabby's items range from products under $10 dollars to $99. Currently we ship only to the US but have plans of expanding shipments to other countries in the future.
I want to stress that when buying from North and South Shabby, our customers can be assured that every aspect of their purchase is handled with utmost TLC ! From the handcrafting, or the selecting, to the careful packaging, to the shipping, we do it all, and we are insanely meticulous about it! We love what we sell and we want our customer to love our products as much as we do! No big box store can say that!
What inspires your work and new products?
I love where I reside since I only have to look around me to the stately historic Key West homes for inspiration. There is a big art community here and of course, living in walking distance of the Atlantic Ocean and the Gulf of Mexico is a plus!
Tell us about your work space.

I have converted half of my bedroom into my art studio, which, unfortunately, always seems to spill out into every corner of my apartment! Eventually I would love to have a studio to work out of, and be able to do what I love full time. But for now, I'm a bartender.
Do you have any up-coming promotions/sales you'd like to share?
Would like to mention that North and South Shabby will be featuring sales on
Black Friday Sale, November 30
Small Business Saturday Sale,November 30
First of December Sale Sunday, December 1
Cyber Monday Sale, December 2
Do you have any advise for someone thinking of opening their own business? Any advise for those wanting to sell on Etsy?
I love selling on Etsy! We've been having so much fun! My advice to new sellers on Etsy would be to first, research trends, learn about seo's, develop your photography skills and lastly, and most importantly, reach out and join some Etsy teams.
Where can people find out more about you and your business?
I recently created a blog titled vintagekeywest.wordpress.com That's been a learning experience!
Facebook: www.facebook.com/NorthandSouthShabby
Twitter: www.twitter.com/noandsoshabby
Pinterest : www.pinterest.com/nandsshabby
________
If you would like to be featured, please contact admin Natalie at natalie@whenshuttersclick.com. Please note you must be a member of the CIJ Etsy team to be featured.